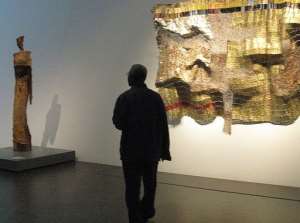 DENVER (AFP) - Sculptor El Anatsui, who was born in Ghana and lives and creates in Nigeria, has mined Africa's history and culture to carve, mold and weave forms that captivate viewers around the world.
"When I set out to do work, I want something that would arrest people at least, draw them closer, so they can decide for themselves whether it's really beautiful," he told art-lovers last week in Denver, Colorado.
"I think of myself as an artist," Anatsui told AFP at a retrospective of his four-decade career. "And I'm an African."
The show features the pieces for which Anatsui is best known.
His monumental wall hangings of bottle caps and copper wire are mutable compositions of movement and light, opacity and openness that he challenges curators to drape and fold as they see fit.
Anatsui's hangings stunned amateur and expert art lovers in Europe, Africa and Asia in the early 2000s, when one was part of Africa Remix, a major survey of the continent's contemporary art; and in Venice, at the 2007 Biennale.
In Denver, the reaction was typical. A slide of an Anatsui tapestry was enough to evoke gasps of pleasure from an audience of several hundred gathered for a pre-opening lecture in the museum's basement.
Upstairs, the hangings danced among the shadows and light in the angular, concrete spaces of the Denver Art Museum's Daniel Libeskind-designed galleries.
"I thought it was very interesting, that you don't have vertical walls," said Anatsui, casual in jeans and denim jacket, his hair a halo of white around a face dominated by tinted glasses.
He spoke of having conversations with the Libeskind space as he led a pre-opening tour of his show, just as his art is defined by conversations between Africa and the rest of the world.
In the 1986 piece for which his retrospective was named, "When I Last Wrote to You about Africa," Anatsui responds to those who argue the continent has no written literature.
The scroll-like wooden plaque stands as tall as a man, and is inscribed with symbols from writing systems from across the continent.
Anatsui, born in 1944, first came across traditional writing systems as an art student in Ghana, before his West African homeland gained independence from Britain in 1957.
His school drew its curriculum and much of its staff from Europe, and all but ignored African art, Anatsui recalls. He and other students explored their own traditions by seeking out craftsmen and artists at markets.
Pieces in his retrospective that date to the 1970s make use of trays Anatsui first saw displaying market wares.
He commissioned his own, and used hot iron rods to inscribe them with traditional symbols drawn from mourning cloth that express abstract concepts like the soul and divine omnipotence.
After graduating, Anatsui developed a philosophy that sustains his work, a commitment not to use paint and canvas, but to work with what he found in his own environment, even if borrowed or used -- or what some might call trash.
In a lecture at the Denver Art Museum last week he complained that paint "has no history. It has nothing to it, it comes straight from the factory. So, why work with it?"
When he moved to Nigeria to teach, he no longer had access to market trays.
He switched to clay and incorporated pottery fragments into his work, inspired by a tradition in his adopted country re-using broken pots, with the fragments often holding offerings in religious ceremonies.
"A broken pot is a pot which is translated from life to the spiritual world," he said.
"I explored the idea of rebirth as something that is consequent on destruction. I worked with this idea of the broken pot and regeneration."
Lisa Binder, curator of contemporary art at the Museum of African Art and curator of the Anatsui retrospective, said Westerners often think of recycling as done out of necessity.
But anyone who has traveled in Africa, she said, will know that items are often re-used in richly imaginative ways, simply because a craftsman or craftswoman can.
While this retrospective, which has been traveling across North America, might evoke the end of a career, Anatsui is still working, exploring new materials and variations on enduring ideas.
In a project he hopes to finish by the end of October, he is cladding parts of New York's High Line, a park recycled from a rail line suspended above Manhattan.
Anatsui is using metal shredders that West Africans use to prepare cassava, a New World food embraced by Africa. He's also using mirrors, a trade item Europe brought to Africa.
Anatsui's caps are from rum and whiskey bottles, the packaged spirits a product brought to Africa by the West.
Anatsui gets his caps from local distillers who give their strong drink playful names that evoke current events, popular dances of the day, or politicians in the news.
The bottle caps, with their link to alcohol, also recall the slave trade that linked Europe, Africa and the Americas, Anatsui said.
For hundreds of years, into the 19th century, sugar raised by African slaves was sold to be distilled into rum in Europe or North America.
Sugar profits bought goods shipped to West Africa to be exchanged for slaves, who would be shipped in turn to West Indian cane plantations to start the triangular trade anew.
"There are so many things that the works reveal about the place that they come from," Anatsui said.