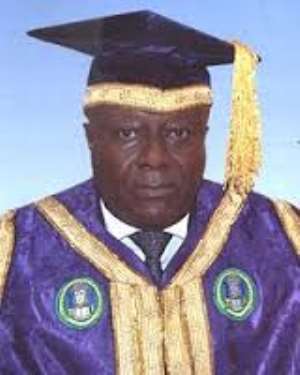 On August 9th, 1950, a child that has proved to demystified Impossibilities and odds was born to late Mr. & Mrs. Oshodin of Ogboka Quarter, Benin City. Growing from strength to strength; from a toddler to an adult, he became a scholar of tremendous academic prowess. That child, today, is Professor Godwin Osayuki Oshodin (JP), the current Vice Chancellor of the great University Of Benin, Benin City, Nigeria.
Professor O.G Oshodin, attended the Western Boys High School, Federal School of Science Lagos, Central State University, Ohio USA, University of New York and the Columbia University U.S.A. He joined the University of as Research Fellow 1981 rose to the position of Professor in 1991. Professor Oshodin is an External Examiner to more than 15 Universities. . He is also a member of 20 Learned Societies and has 41 Awards and Honours to his credit. His administrative acumen in the University of is also very robust; he has either been a Chairman or member of more than 35 university Boards and Committees. He was Director, Sports, Dean, faculty of Education, and had also been Dean, Students Affairs. He has to himself more than 78 academic Publications, 6 Books and 27 other books as Co-author.
Since his appointment as the Vice- Chancellor of University of Benin on 30th, November 2009, Professor O.G Oshodin has exemplified and applied the distinctive qualities of handwork, prudence, humanness, accountability and rare administrative sagacity in steering the affairs of this great citadel of learning.
True to his Benin name Osayukidolasonyi meaning, "God created the Moon to Bright-up the Night", the erudite scholar, with his visionary; resourceful, and purposeful leadership has brought great illumination to the University of Benin, resulting in Unprecedented Massive Infrastructural and Human Capital development, peaceful academic environment, harmonious working relationship with organized Labour Unions within the University, and cordial Student/Management relationship in a short pace of time. No wonder therefore, that Professor O.G Oshodin has won the admiration of all, including that of His Royal Majesty Omo N' Oba N' Edo Uku Akpolokpolo, Oba Erediauwa 1 CFR, The Oba of Benin Kingdom, who in recognition of his patriotism, his salutary disposition to humanity and his transformational administrative acumen, bestowed on him a "Royal Bead" reserved exclusively for those who have distinguished themselves in various endeavors of life.
Again, the distinctive qualities of the leadership of Professor O.G Oshodin has made the University to remain a University of first choice and the premier of Institution of learning at the Podium of academic excellence of all Universities in Nigeria.
Supporting the above assertion, the University of Benin was recently ranked first among all University in Nigeria in the 2012 bulletin of "Webometric Ranking of World University". Continentally, the university of Benin ranks 32nd among the top One Hundred in Africa. With this rating, University of Benin (UNIBEN) is now truly "UNIBEST". Furthermore, University of Benin recently, successfully carried-out a Bio-Metric Data capture of Staff, the first of its kind in the Ivory Tower amongst other accolades.
As you celebrate your Birthday Sir, I wish you and your amiable wife a most enjoyable day, basking in the full knowledge that God and the people appreciate you.
Clifford Ogbeide
1, Ogbeide Street,
Benin City, Nigeria
[email protected]