Who killed President Mills? Kwesi Pratt and Okudzeto Ablakwa cannot escape blame.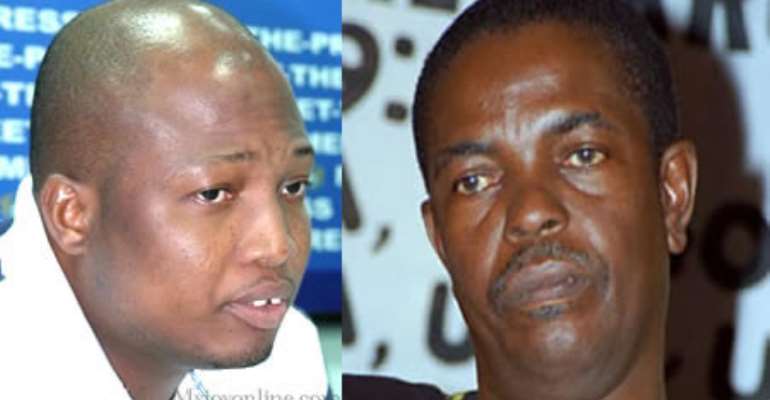 You may call me whatever name you like. But I still remain the person God created me to be. I am the conscience and eye of the people. I have been vindicated on the stance I took on the late President's health. When I warned the nation of the impending catastrophe that awaited us if the unpatriotic and lunatic elements who were toying with the late President's health were allowed to have their way, many were the hawks, the hyenas, the snarling, vicious and venomous snakes and vipers, the ugly vultures, and the rabid dogs who descended heavily on me.
At a stage, I became exasperated when some disgusting elements called me on the phone and abused not only me, but my entire family. The in box of both my phone and E-Mail were full of such nonsensical and quixotic messages. Some lunatics even went to the extent of threatening me with death.
But on that particular occasion, I chose not to be unruffled. I did not allow myself to be provoked, because I knew I would be vindicated.
For the sake of posterity, I would like to refer readers to my two write-ups as they pertained to the President's health. The first was titled, "The President is sick; Take it or leave it" and was published on- line by many web sites and newspapers. Ghana web published it on 7th July, 2012. In that piece, I warned the handlers of late President Mills on the way they were toying with his health.
Please refer to that article on Ghana web, Spy Ghana, Modern Ghana and other web sites and tell me where I went wrong. You must also read the nasty attacks on me for bringing to the fore the health of our then President and tell me whether those who attacked me are patriotic Ghanaians and whether such people deserved to live. They are ingrates and should like the Biblical traitor, Judas Iscariot go and hang themselves.
In my second write-up which was published in "Daybreak" on Tuesday, 10th July, 2012 ( which is reproduced here below), I warned that those who were playing a yoyo with the President's health would be held responsible should anything untoward happened to him. I threw an open challenge to them to produce the President within forty eight hours after the publication if indeed the President was well.
Well, my caution and appeal went unheeded and within two weeks the President had died. Whom do we blame? From every indication and from utterances by family members of the late President, they knew the President was not sound in health. This came to light in an interactive session Metro TV. What came out was quite revealing.
Yet Kwesi Pratt, Samuel Okudzeto Ablakwa, Alhaji Bature, Allotey Jacobs, Felix Ofosu Kwakye, Koku Anyidoho and a lot of Presidential Staffers said the President was sound in health and even went to the ridiculous extent of hurling insults at any one who wished the President well in his ailment. Was that patriotic? Not at all! It could at best be described as selfish, insensitive and criminal.
The fact that I disagreed with the way and manner the late President was handling the affairs of this nation did not mean I hated him. I made that clear in my write ups and even suggested that if the President was not well, the nation should be told so that we would all pray for him. This could also be seen on my face book wall. What pains me most is the fact that Kwesi Pratt, the CIA Agent who had castigated Nana Addo Dankwa Akufo-Addo for wishing late President Mills well when he went for his overseas treatment and our Chemical Ali, Samuel Okudzeto Ablakwa, who wished death for NPP members now have the mouth to make comments on the death of President Mills.
If they and those who insisted President Mills was well have conscience and any little modicum of dignity left in them, they should do the only honourable thing left for them. They too like the Biblical traitor, Judas Iscariot should go and do hari-kari. They should hand themselves over to Boko Harem. In the alternative, they should ask forgiveness of God and Ghanaians for being accessory to the crime of "killing the President slowly and softly". Available information now reveals that the President's ailment was serious. Yet these criminally minded and conscienceless persons for political expediency made the late President go through the arduous task of jogging at the airport prior to his departure and also make him trot at the airport on his return from his treatment from overseas. What wickedness, what insincerity, what insensitivity was that?
I do not think the matter should be allowed to die a natural death. When Michael Jackson died, investigations into his death were conducted and his doctor was found culpable. We should go into the nitty-gritty to find out who and who colluded to aggravate the deteriorating health condition of ex President Mills. It will then give us an idea as to whether or not, such persons had any ulterior motive to treat the health status of President Mills the way they did.
If our new President wants his tenure to be a success, he should rid himself of the cabal at the seat of Governance. Those scallywags of Deputy Ministers whose stock in trade is to hurl abuses and insults at their elders and betters almost on daily basis should be sacked immediately. They and the Cabal at the Presidency are dangerous and should not be trusted. What does one do in the midst of one's enemies? Sleep with both eyes open! But how long can President John Mahama sleep with all his eyes open? Not for long!
So Please, President John Mahama, you cannot trust these hangers on at the seat of power. Do the only logical thing. Fire them and save yourself and Presidency from treacherous Thanes of Cawdor. Indeed "There is no art to find the mind's construction on the face". You are surrounded by traitors who have daggers in their smiles. They have done it to your predecessor. Why can't they do same to you? The leopard does not and cannot change the colour of its skin.
Samuel Okudzeto Ablakwa, Kwesi Pratt and some Presidential staffers are known traitors from birth. "Pick race" and flee for your life if you accidentally come across any of them. They are dangerous!
Sufficient unto the day is the evil thereof. I have spoken. Do not say I did not warn you!
Daniel Danquah Damptey ([email protected])([email protected])
0243715297.