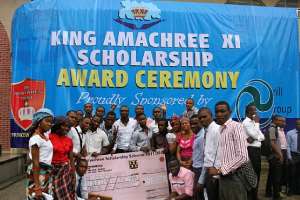 BENEFICIARIES OF THE KING AMACHREE XI SCHOLARSHI COLLECT AWARD CHEQUES
By Eze Chukwuemeka Eze, [email protected], 08038199163
July 2nd, 2012 will remain evergreen in the annals of education upliftement in Rivers State as King ProfT.J.T. Princewill CFR, Amachree XI, Amayanabo Kalabari and the scion of the Kalabari Kingdom, a philanthropist per excellence, Prince Tonye Princewill finally put paid to innuendoes and the antics of skeptics expressed in some quarters as to the reliability and sustainability of King Amachree Scholarship Scheme (KIASS) instituted in 2003. The ancient city of Buguma and the traditional capital of the Kalabari kingdom became agog and electrified as the beneficiaries of 89 undergraduates and 5 postgraduate students of Rivers State origin received their scholarship award for the 2011/2012 King Amachree Scholarship Scheme from HRM Professor King T.J.T. Princewill, CFR, the Amayanabo of kalabari at the famous King Amachree Hall Buguma.
It was a carnival of sort as the Amayanabo in his royal majestic splendor and most of his high Kalabari Chiefs that graced the occasion appeared in their rich Kalabari chieftaincy attire. Numerous members and supporters of Princewill Political Associates and the winners of this year's scholarship scheme exuded warmth, joy and relish the atmosphere of cordiality that was manifestly prevalent in the Hall.
King Prof T.J.T. Princewill a renowned scholar of international repute, first indigenous Professor of Science from Rivers State to be appointed Dean, Faculty of Science, Rivers State University of Science and Technology RSUST, Port Harcourt; Pioneer Pro-Chancellor and Chairman Provisional Governing Council of University of Akpajo, Rivers State; He is the first Professor to be crowned king in Rivers State and also the first Kalabari king to head the Rivers State Traditional Council of Chiefs. Apart from these feats, he is the first Rivers State Traditional Ruler to be conferred with the title of Commander of the Federal Republic CFR.
In his welcome address he quoted eloquently the famous South African President, Nelson Mandela that "Education is the most powerful weapon which you can use to change the world". The royal father went further to state how he began his working career in the Northern part of Nigeria from where he rose to the top before he travelled to University of Leeds in Britain where he did both his first and Masters Degrees and PhD in Micro-Biology. He lectured briefly in the same University before returning to Nigeria to pick up an appointment with Nigeria Vetinary Institute, Jos, Plateau State. He later transferred his services to University of Port Harcourt where he held several appointments before retiring to join Rivers State University of Science and Technology as one of the very few eminently qualified Professors engaged by the new institution. He served the University for nine years before he was called upon by his Buguma people to become the 11th Amayanabo of Kalabari Kingdom.
The hall that was filled with reputable chiefs, beneficiaries and other well-wishers was held spell bound when the King took the audience down memory lane and recounted how as an indigent student in Leeds University in Britain paying his school fees was a heavy burden on him. Hear him. "I was an indigent student in the Leeds University that made the University Authority then to reduce my school fees in order to enable me pay but today I am a happy man because, I am giving back to education what it gave to me through establishment of this scholarship scheme that will go a long way in ensuring that some of our lucky indigent students can comfortably study without much stress and hoping that they will turn out to better citizens of our dear country". Continuing, HRM said he is indeed sad to see the number of our youths that have turn into criminality because of poor education. Today, Nigeria seems to be at war with itself because of some misguided youths parading themselves as Boko Harams have little education. I plead with our leaders and the well- to-do among us to save our country and invest in the education of our children as they will take over from us; if not we will have a bleak future in this country. It is because of this fear that I am investing in the education of these children not because I am so rich but because of the danger that looms ahead of us. He further told his audience that as an Alumnus of University of Leeds, he has being contacted to recommend Nigerian Students that have five As in WASC for scholarship in the university and he will be happy if such students can come out from this scheme. "I am a happy father not only about what God has made me to achieve but the type of son that God has given me who believes in my principles and has gone a long way to ensure that this scheme takes the scope is currently taking. I am very convinced that the Scheme has come to stay. I sincerely congratulate the current winners and pray that they justify the scholarship by winning laurels in their various Universities".
Prince Tonye Princewill the scion of the Kalabari Kingdom who spoke through his Media Consultant, Chief Eze C Eze spoke after the King's speech poured encomium on his father describing him as the father of fathers; a father that ensures he had the very best of education, that has made him what and who he is today. "I owe all that I am today to this great and unassuming man, who saw the wisdom that I should have the best of education at my foundation". To me I am blessed to bless others and in tandem with one of my statements displayed in one of the Billboards in Port Harcourt, 'Remember the Youths Because The Young Shall Grow'; I am supporting my father in his vision to affect the future leaders of our country through this scheme". He promised to meet the beneficiaries at a later date to have firsthand knowledge of their other challenges and see how such challenges can be addressed. He assured those of them that will excels in their studies of his resolve absorb them upon their graduation in his companies or create employment for them in other areas he has some influences and interests.
Lady Mina Omunguye, the Coordinator of the Princewill Trust Fund sponsors of the annual King Amachree XI Scholarship Fund who earlier gave the history of the Scheme stated; "King Amachree XI Scholarship is a dream come true of an initiative started by the Crown King, HM King Prof T.J.T Princewill, Amachree XI, Amanyanabo of Kalabari. She recalled vividly that at his installation as the Amayanabo of Kalabari some years ago, one of the King's cardinal objectives was to bring sound and qualitative education to his subjects in his domain. Mina Omunguye opined that from all intent and purposes, the Amayanabo has lived up to his billing.
According to her, the Scholarship Scheme started in 2003/2004 with 50 students (postgraduates and undergraduates earning the sum of N100, 000.00 and N50, 000.00 respectively) as beneficiaries across all tertiary institutions in the nation. However, the Buguma crisis and stream of politics at the time stalled the continuity of the scheme.
Gladly today, we see the reverberation of this scheme and its growth spreading to beneficiaries not only of the Kalabari Kingdom as it was originally planned but now to all indigenes of Rivers State…" She later presented to the public the cheque of Twenty Million Naira N20M for the payment of both 2010/2011 Session and the 2011/2012Session and asked the 72 beneficiaries of 2010/2011 session to proceed to Guaranty Trust Bank GRA Juncture Port Harcourt with two passport photographs and School ID Card to redeem their award while rolling out formally the names of the 89 undergraduates and 5 postgraduates beneficiaries of 2011/2012 to come forward and collect their cheques from King Prof Princewill.
Mr. George Onari Charles a student of Rivers State University of Science and Technology, Port Harcourt in his vote of thanks and on behalf of the awardees thanked the King and the Prince for believing in the future of the youths of Rivers State and assured the duo that they will utilize the opportunity wisely and will strive to become outstanding students in their various schools by making good grades in their studies.
The historic event came to a close with closing remarks by Chief M.K.D Amachree (JP), Paramount Chief of Okoroja Compound in Buguma thanking the King for his visionary leadership and for been the first and only Traditional leader spearheading a better future for our country by investing in our youths through this scheme.
High Chiefs that attended the event include Chief Des Amachree, Chief Chubo Pepple Amachree, Chief Lavender LongJohn JP, Chief Anthony Jacob A.H, Chief F.E. George, Chief Renas Alabo JP, Chief MKD Amachree among others with Prince Datema JP as anchor person of the great event.
For avoidance of doubt the list of the beneficiaries of 201/2011 and 2011/2012 sessions and relevant pictures are hereby attached for your study, perusal and action.
Eze Chukwuemeka Eze is a Media Consultant based in Port Harcourt