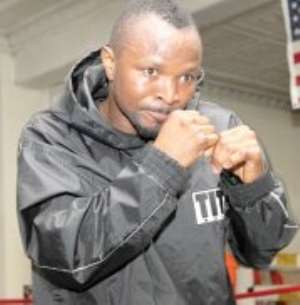 Joseph Agbeko
Joseph Agbeko has pulled out of the International Boxing Organisation (IBO) world title fight in Accra in the latest twist to an unfortunate comical circus.
Less than a week after the fight was ressurected after the promoters cancelled it, organisers have nailed it finally as a rift between the promoters and the boxer's camp deepened.
Other fights on the bill, including James 'Bukom Fire' Armah's middleweight clash with Frederick Lawson and Obodai Sai's date with Ishmael Tetteh, will go ahead on May 26 as scheduled, promoters GoldenMike Promotions have assured.
The camp of the former International Boxing Federation (IBF) bantamweight champion has decided to withdraw from the Saturday, May 26 bout scheduled for the El-Wak Stadium under the excuse of poor organisation of the fight.
Agbeko himself could not be reached for his comments.
Michael Tetteh who heads GoldenMike Promotions Syndicate said the cancelation of the bout was informed by a sudden U-turn by the camp of Agbeko to pull out despite signing an undertaking to fight less than a week earlier.
He said the bill would go on as schedule with all other fights, stressing that they would take steps to seek appropriate redress on the matter on account of the huge financial investment already made.
Agbeko's publicist, Ebenezer Noye, told Graphic Sports in an interview that events in the last week had added to their fears about the whole organisation of the bill upon which they had decided to pull out.
Last week, GoldenMike announced a cancelation of the fight, insisting that Agbeko's demand for a postponement on grounds that there had not been enough publicity for the fight was unconvincing.
That decision was swiftly reversed after a meeting between the camps of the boxer and the promoters.