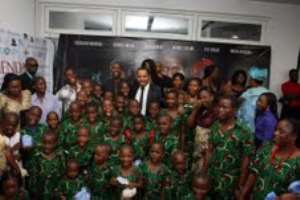 Donations, Job Creation, Scholarship Scheme etc.: The Princewill's Example
By Nwaorgu Faustinus
Individuals of Charisma are often sincerely called to mind, eulogized, remembered and or immortalized while still alive for their colossal humanitarian disposition not only to the poor, the less privileged, the unemployed but also to persons who genuinely needed to be helped given the availability of resources at the givers disposal and prompting of the donor's spirit. Conversely too, people often times are snubbed into eternal obscurity, oblivion for their actions and inactions which most people consider to be negative and not in the interest of the downtrodden, unemployed, less privileged among others whose situation appear to be insurmountable. It is therefore in the former that Prince Tonye Princewill falls.
Born on 4th of January, 1969, into the family of a famous academics and Amanyanabo of the Kalabari Kingdom - King Prof TJT Princewill, Amachree the xi. Princewill an Engineer by training possesses a post-graduate degree from the Imperial College, London. A proficient practitioner with a unblemished working knowledge of both ITIL and Change Management, he's been a presenter on project management issues. His knowledge of the Oil and Gas industry, his ICT experience and his relationships with both corporate and community players has led to his instituting and facilitation of several initiatives for training, capacity building and skills acquisition in the region.
Princewill a perspicacious business magnate with interests cutting across the aviation industry to haulage of petroleum products, entertainment industry, information communication technology to mention but a few had his initial stints with blue Chip companies where he polished his professional skills which he used to good advantage. He is the youngest member of the Rivers State Economic Advisory Committee. In December 2007, he was appointed Investment Consultant to the Rivers State and has so far been able to attract over (N50B) fifty Billion Naira) worth of investments to the state through the Public Private Partnership Initiative of the State Government.
In his bid to bring in foreign investment to Rivers State, through Public Private Partnership, he pulled the maiden string that saw Silver bird Cinema in the heart of Port Harcourt. Apart from this, he has facilitated other major investment opportunities and ventures for the State Government's Public Private Partnership (PPP) Initiative to wit, the new International Market in Eleme, the new Rivers State Emergency Call Centre, the 1000 bed Mega Hospital, the Mother and Children's Hospital and the Tumosan's tractor assembly plant. These initiatives alongside his personal business concerns such as River Drill Group and Delta Plus have played a major role in Rivers State as avenues for the employment of thousands of unemployed persons.
On how Prince Tonye Princewill impacted on the lives of the youth, undergraduate and postgraduate one Onukwube Uwanu, a social critic wrote "In an unemployment ravaging society and being an employment agent, Princewill has been able to employ thousands of youths and graduates through his investment initiatives which cut across oil and gas, telecommunication, information technology etc. These youths would have been unemployed, indolent or at worse social misfits but God forbid. Not done yet, Princewill is the brain behind his father's Pet Project and Scholarship Scheme where over 150 Kalabari undergraduates and post-graduates around the globe benefit from the scholarship programme yearly. In addition, he has not relented in giving alms to the less privileged individuals, groups or organization either morally, financially or otherwise. One of such assistance was the donation of a bus to the National Association of Ijaw Female Students (NAIFS), an umbrella body of Ijaw female students both in Nigeria and Diaspora".
As a sports lover, he on the 26th of July, 2008 sponsored twenty youths and six journalists to the Federal Capital Territory, Abuja to watch live the match between two giant English clubs - Manchester United and Portsmouth. Twenty fans were selected out of five thousand fans through a draw, ten females and the other ten males of Niger Delta extraction. For the two days they spent in Abuja, hotel accommodation, daily allowance and feeding as well as transportation was adequately provided by this rare gift to the Niger Delta and by extension Nigeria. The reason for the gesture according to a close source was not only to enable the fans to have first-hand experience of Abuja but to also watch live, for the first time, the two clubs play and to eventually propel them to make a career in sports if need be.
He had in the past and even recently identified with the media from 2009 to date which has earned him the tag "friend of the media" as his relationship with the Forth Estate could best be described as amiable and convivial. It is worthy of note that the Rivers State owned newspaper, The Tide Newspaper has benefited from the magnanimous inclinations of this scion of the Kalabari monarch. This is sequel to his donation of three quality laptops to the newspaper outfit in 2009 and donation of a world class photocopier to the Rivers State chapter of Nigeria Union of Journalists' Correspondents Chapel. Recently too, he made an undisclosed cash donation to the incoming executive and a large collection of equipment to the Correspondents Chapel to help assist them with running their business centre in addition to the donation of Media Centre to the Peoples Democratic Party Head Quarters in Abuja, a party which he belongs to.
Not done yet, he has facilitated the sponsorship of the like of Mr. Valentine Ohu in Broadcast Journalism, Miss Crystabel Goddy in Acting, Mr Telema Senibo in 3D Graphics, Miss Mercy Akudo, in Acting, and Mr Stanley Kotey in 3D Graphics to the 2011 Del-York Film Academy. For posterity sake, the above youths are currently owners of studios worth millions of Naira which will help them put into practice the training the obtained at Del-York Film Academy. Similarly he had in more than one occasion identified with orphanages by the sponsorship of NNENDA, a Nigerian home video that x-rayed the pitiable plight of orphans in the society and recently the musical reality T show for orphanages organized by Melody Shelters, wherein he in collaboration with Adonis Productions dulled out the Championship Prize of N10M to Kogi State Godswill Orphanage while the Runners-up, the Lifetime Orphanage of Rivers State got the Prize of N5M. Rachael Homes, Abuja came in third carting home the N3Mprize while five hundred thousand each was given to the other remaining five Homes.
In appreciation for the humanitarian contributions of this rare breed (Prince Tonye Princewill) in the political enclave of the South-South Zone, one Odimegwu Onwumere dedicated an anthology with the title: "Piquant: Love Poems To Prince Tonye Princewill" to him. Again, though not given to accepting awards, Prince Tonye made himself available to accept a "Leadership and Human Development Award conferred on him by the National Association of Ijaw Female Students.
These commendable humanitarian works embarked upon by Prince Tonye Princewill, among others not captured herein, have continued to generate reactions among many who ask if there is no end to his philanthropy and for what purpose. It is now over to you, the Prince of Niger Delta politics to expatiate to Nigerians what informed your charitable works.
Nwaorgu Faustinus writes from Port Harcourt, Rivers State. Mobile: +2348035601312. Email: [email protected]