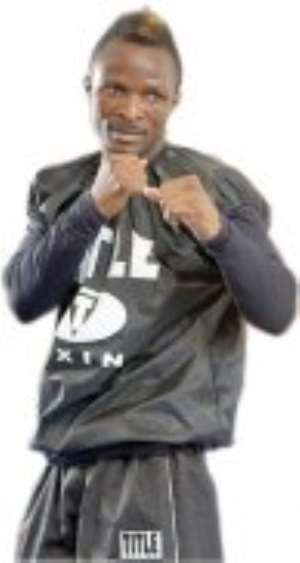 Joseph Agbeko
Joseph Agbeko After a tense meeting in Accra last Friday witnessed by four fully armed policemen, GoldenMike Promotions have resolved to stage the International Boxing Organisation (IBO) bantamweight title fight for Ghana's Joseph Agbeko in Accra.
The May 26 fight will, therefore, go ahead as earlier scheduled, with Agbeko's opponent, Filipino Michael Domingo, expected in Accra this week for pre-fight formalities.
A rather calm Agbeko left the meeting without any comments to the public, and headed straight to the gym for a late evening workout as he underlined the seriousness of the fight and his readiness for a fourth straight world title bout.
The two-time International Boxing Federation (IBF) bantamweight champion is seeking rehabilitation following his double loss to Mexican Abner Mares within the space of five months in 2011 when the two fought for the IBF belt.
But serious disagreements between the boxer and the promoters over the organisation of the May 26 fight scheduled for the El-Wak Stadium left the bill in limbo and compelled GoldenMike to call it off despite having spent almost $25,000 on advance purse payments, airfares for judges and boxers travelling from Europe and beyond to Accra.
"We are happy the fight is back on the cards, that is what is most important for now," Michael Tetteh who heads GoldenMike told Graphic Sports in an interview.
"We still think Agbeko is a great champion whose skills we can bring closer to the Ghanaian public this month. Many have seen him on television, but now they can watch him live at the El-Wak Stadium in two weeks' time."
The meeting which was also attended by members of the Ghana Boxing Authority, including its chairman Samir Captan, was to resolve a feud that had almost caused the cancellation of the bout and the bill altogether.
The May 26 bout will be the first world title fight in Ghana since the legendary Azumah Nelson fought and stopped Brazilian Sidnei Dal Rovere in three rounds on December 10, 1988 at the Accra Stadium.
The package will have some entertainers, including the famous 4x4 group, adding a showbiz side to the show.