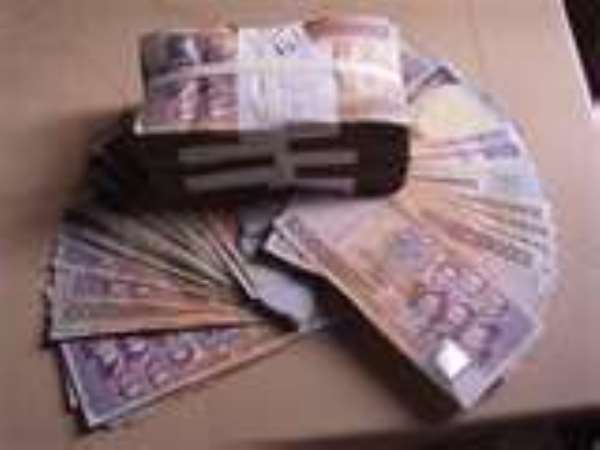 Because most of them are highly corrupt, have access to all deals and contracts and allocate most of these contracts to companies they have formed flouting the countries conflict of interest laws. More revelations to follow:
(1). Dr. Kwame Addo Kufour – $1.2 billion
(2). Dr. Sam Jonah – $500 Million
(3). Dr. Kwesi Nduom – $300 million
(4). Nana Akufo-Addo – $250 million
(5). Dr. Yaw Osafo-Marfo – $220 million
(6). Dr. Kwesi Botchwey – $200 million
(7). Dr. Kwaku Afriyie – $180 million
(8). Mr. Kwadwo Adjei Darko – $150 million
(9). President Jerry John Rawlings – $50 million
(10). Mr. Kofi Wayo – $30 million.
Below is a prime example of how politicians are FLEECING GHANA AND GHANAIANS. We need to pass strong laws to stop this ABUSE OF POWER AND PUBLIC TRUST.
Kennedy Agyepong Rants And Calls EOCO's Bluff
The New Patriotic Party (NPP), Member of Parliament (MP), for Assin North in the Central Region, Kennedy Agyepong, has confirmed The Herald's disclosure on Monday that he had been investigated by the Economic and Organised Crime Office (EOCO) over some multi-million dollar contracts awarded him and his wife by the Ministry of Energy (MOE) during ex-president Kufuor's regime.
On various radio platforms since Monday, Mr. Agyapong shockingly disclosed that the two companies which executed the mouthwatering contracts are rather owned by his legally married wife, and insisted that there was nothing wrong with the award of the contract as his wife like any Ghanaian, was engaged in legitimate business.
He also confirmed appearing before the EOCO with his wife, Mrs. Stella Agyapong (Wilson) to assist with investigations into the award of contracts which The Herald is informed, were not fully honoured by the Agyapong family.
Details of the contracts awarded the two companies namely: Mina D'Oro Ventures and Messrs Imperial World Business Limited were to supply electrical materials to the Ministry of Energy (MOE) as part of the National Electrification Programme.
The ownership of Mina D'Oro Ventures and Messrs Imperial World Business Limited have hitherto been shrouded in mystery until Mr. Agyapong's disclosure this week.
On the Tema-based Adom FM, the MP who is best and notoriously known for his insults, and chronic verbal diarrhea, as usual decided not to speak to the issues but resorted to making disparaging remarks about the Managing Editor of The Herald which was completely ignored by Mr. Larry-Alans Dogbey.
Mr. Agyapong also claimed that the Managing Editor is envious of his wealth.
Mr. Agyapong, known currently for his so called exposé on the unending Woyome Judgment Debt saga, admitted that although his wife did business with the ministry, which went beyond the previous administration, she did no wrong.
But our checks at the EOCO have it that even though the two companies – Mina D'oro Ventures and Messrs Imperial World Business Limited – got a total of US$6,825,000 Million from the Controller and Accountant – Generals Department, they failed to supply the correct amount of the electrical materials as stipulated in the contract.
He said that, unlike the National Democratic Congress (NDC) that has allowed Mr. Alfred Woyome, who has been doled out a whopping GH¢51 million as judgement debt, his wife committed no crime to warrant any arrest.
Mr. Agyapong dared anyone, especially the EOCO, to come and arrest him if they have enough evidence that he had been given money undeservedly.
It is not clear if EOCO will arrest the MP, who throughout his submission went on an insulting spree, including uncomplimentary remarks about President John Mills, daring the EOCO to come for him if they have enough information that he did something untoward.
On Asempa FM, he accused the investigators of trying to coach storekeepers at the MOE to implicate him and his wife for prosecution, and insisted that they were ready for anything that the Mills Administration would accuse them of, as they were not afraid.
The Herald last Monday reported that the Assin North MP had appeared before the EOCO for alleged dubious business deals, and had written a police statement to that effect, but it is unclear why prosecution has not yet been initiated when it is clear that he duped the nation.
Sources at the EOCO told The Herald that one officer called Mr. Justice Tsa, who is a deputy to Mr. Kweku Mortey, the EOCO boss is handling the case against Mr. Agyapong.
Using two ghost companies to collect nearly $7 million United States dollars from the Ministry of Finance, there are suggestions that the money was channeled through Mr. Agyapong to finance the NPP's election 2008 campaign.
The identities of the companies are: Mina D'oro Ventures and Messrs. Imperial World Business Limited, who got a total of US$6, 825, 000 million from the Controller and Accountant Generals' Department on the orders of Dr. Anthony Akoto Osei and Prof. Gyan-Baffour, who were then in the Finance Ministry as Minister of State and Deputy Minister respectively.
The case at EOCO, according to documents sighted by The Herald, reveal that Dr. Akoto Osei and Prof. Gyan-Baffour at various times authorized the release of the huge sums to the two phoney companies.
According to the documents, on July 23, 2008, August 7, 2008 and November 27, 2008 respectively, there was a release of US$1 million, US$650,000.00 and US$2, 175, 000.00 to Mina D'oro Ventures on the authorization of Mr. Christian Sotie, then the Controller and Accountant-General, who also bowed on the strict orders of Dr. Akoto Osei.
Subsequently, Prof. Gyan-Baffour, by a document dated November 18, 2008, directed the sacked Controller and Accountant-General, Mr. Sotie to pay Messrs Imperial World Business US$ 3 million.
Remarkably, although the two companies claimed to be suppliers of electrical materials for rural electrification projects, and are located within a building belonging to Mr. Agyapong's Hollywood Shopping Arcade from which he runs KenCity Media Limited in Madina, Accra, the companies could not be traced.
Since last year, this reporter started paying regular visits to the shopping arcade in a bid to locate the two companies that had collected so much money from state coffers for supposedly supplying energy materials for rural electrification projects, which insiders allege did not go through any competitive tender process.
Interestingly, Mina D'oro Ventures and Messrs. Imperial World Business Limited operate separate bank accounts, namely; 113000003302 and 1131000013929 respectively at the Madina Branch of the Agriculture Development Bank (ADB), also located in the building belonging to the NPP MP.
Another document from the Registrar-General's Department on the identities of the two companies revealed something very striking.
Imperial World Business Limited was not registered with the department, but rather Imperial World Business Ventures, with registration number BN-19,401C.
Mina D'oro Ventures is in the records of the department as a Sole Proprietorship with registration number BN-19,196C but in the name of a certain Stella Wilson, as the owner, and February 16, 1962 as her date of birth.
Mina D'oro Ventures was registered at the Registrar-General's Department on March 15, 2001 as General Merchants, to carry out Import and Export Services.
Shockingly, its postal address is P.O. Box BC Burma Camp-Accra, the same address used by Mr. Ken Agyapong to purchase and import his nearly ¢8 billion Rolls-Royce from Rolls-Royce Motors in London.