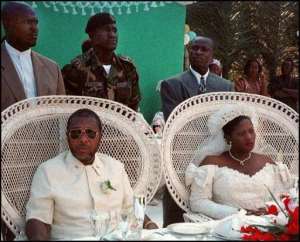 Jewel Howard Taylor (L, at her 1996 wedding) wants a ban on gay marriage. By Francois Harispe (AFP/File)
MONROVIA (AFP) - Former Liberian first lady Jewel Howard Taylor has introduced a bill making homosexuality liable to a death sentence, amid a raging debate over gay rights in the country, a lawmaker said Wednesday.
The bill submitted by former president Charles Taylor's ex-wife, now a senator, also seeks to amend laws to prohibit gay marriage.
"No two persons of the same sex shall have sexual relations. A violation of this prohibition will be considered a first degree felony," reads the proposed amendment to marriage laws.
First degree punishment can range from 10 years to life imprisonment to the death sentence, on the discretion of the judge.
Voluntary sodomy is already a criminal offence in the west African country and can result in up to three years imprisonment, according to a lawyer consulted by AFP.
George Tengbeh, a senator supporting the bill, said he hoped it would put an end to months of acrimonious public debate on gay rights.
It aims "to prevent the parliament from talking about such an issue that is against our tradition and culture," he told AFP.
The issue has been in the headlines this year as a group of activists in the country began lobbying for a bill legalising same-sex marriage.
This created a furore in the country whose President Ellen Johnson Sirleaf is a Nobel Peace Prize winner.
The information ministry released a statement on January 26 saying: "The Liberian government will not allow the legalisation of gay and lesbian activities in Liberia. The president has vowed not to allow such a bill, and even if the bill goes before the president she will veto it."
However Sirleaf herself has not commented on the extremely taboo topic.
Gay rights in Africa have been in the spotlight since the United States and Britain threatened to make aid conditional on enhanced rights for homosexuals.
"The first time we heard about it was at the AU (African Union) summit when the UN secretary general, Ban Ki-moon, appealed to African leaders to endorse gay rights," Tengbeh said.
"We came up to say that it's not suitable for us because our tradition does not allow such things to happen," he said.
A few weeks after the United States in December announced it would consider gay rights when handing out aid, the Movement in Defence of Gay and Lesbian Rights in Liberia began to push for the legalisation of same-sex marriage.
This was roundly condemned and the leaders of the movement -- none of them gay -- were mobbed and had to be rescued by police when they tried to campaign at a university campus.
US Secretary of State Hillary Clinton, who has said human rights and gay rights were the same thing, paid a brief visit to Liberia on January 16 in the middle of the storm, but did not mention the gay issue.
The two countries have deep ties. Liberia, the oldest black African republic, was founded in 1822 by the United States for freed American slaves.
The United States is a major donor to the country it founded in 1822 for freed slaves, giving more than $1 billion since the end of a brutal civil war in 2003 and over $230 million in 2010 alone, according to the State Department.
Many African countries reacted with scorn to the idea that the West would dictate to them on homosexuality - considered "un-African" by many. Only South Africa has legalised gay marriage on the continent.
In Uganda, where homosexuality is already punishable by life imprisonment, a recently reintroduced bill proposes to toughen the law, notably by criminalising acts aiding or abetting homosexuality.
A gay man, speaking to AFP on condition of anonymity, said: "We have chosen to be gay, that is what we want, and that is what we like. That is what we have chosen and we want to display it. I don't want to continue in hiding. But if you try to display it now you will be mobbed."