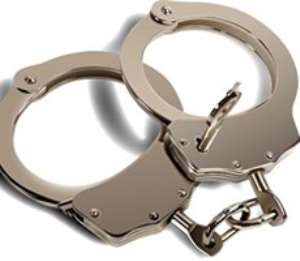 The Police have arrested five members of a syndicate, who allegedly collected various sums of money from job seekers under the guise of recruiting them into Glo Mobile Ghana Limited.
According to GNA reports, the brain behind the alleged recruitment scam, Austa Mireku, Managing Director of Bild Training Hub, is, however, on the run.
The report quotes Superintendent Felix Mawusi, Director of the Commercial Crime Unit, saying the group had set up a recruitment company called Eklektic and was operating from the Busy Internet.
The suspects, according to the report, posted an advertisement online asking qualified applicants to apply for recruitment into Glo Mobile Ghana and extorted money from the applicants.
Supt. Mawusi said 24 people have responded to the advertisement and were made to pay between GH100 and GH200 cedis to the group.
According to Supt. Mawusi, the basic idea behind the advertisement was to defraud unsuspecting members of the public.
He, therefore, cautioned the public to be wary of such online adverts, especially those coming from unregistered job recruitment agencies.
He asked members of the public not to give their bio-data to unlicensed recruitment agencies or posting them online as they could be used by others to commit crime with dangerous consequences for the owners.
Early this month, Glo Mobile Ghana warned the public about the activities of certain unscrupulous individuals parading as Recruitment Agents and Human Resource officials of Glo.
These people are extorting money from innocent persons under the pretext of getting them job placements in the company.
A statement signed by Management said: "Glo Mobile Ghana Limited has not authorised any individual or group of persons to recruit staff on its behalf. Glo Mobile Ghana further reminds the general public that it will never demand any form of payment from any individual to be interviewed for any possible job placement in the organisation.
"We accordingly wish to caution the public to be wary of scams and... fraudsters."
The statement said the "Management of Glo Mobile Ghana strongly urges all persons who come into contact with these imposters to immediately report them to the nearest law enforcement agents".
It said Glo Mobile Ghana periodically publishes vacancy advertisements and so any person seeking additional reliable information about job opportunities at Glo Mobile Ghana should email to [email protected]