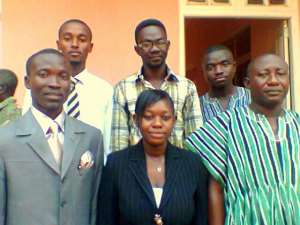 The newly elected executives with the Regional Director (in Smock, in front)
The National Service Personnel Association (NASPA) delegates in the Brong Ahafo Region today December 21, 2011, have designated new sets of personnels for their executive positions for the 2011/2012 national service year.
Out of 110 delegates who were supposed to attend the meeting, 92 turned up to exercise their franchise.
Nominees for the presidential positions were Hon. Buertey Samuel Junior (NASPA President Tano south), Hon. Dsane Henry Niikoi (NASPA President Tano North), Hon. Anyandi Kwaku Edem (NASPA President Berekum), Hon. Obed Ofori Bangdome (NASPA President Wenchi), Hon. Agyapong Sebastian Thomas (NASPA Vice President Asutifi) and Hon. Osei Poku Jude (NASPA President Suyani Municipal).
Out of the 92 votes cast, Hon. Obed Ofori Bangdome emerged as the President by pulling 33 votes, whiles Hon. Buertey Samuel Junior, Hon. Dsane Henry Niikoi, Hon. Anyandi Kwaku Edem , Hon. Agyapong Sebastian Thomas and Hon. Osei Poku Jude attained 13, 8, 22, 8 and 8 votes respectively.
Four delegates contested for the vice president position and Honourable Amankwaa John (NASPA President Pru) obtained 45 votes to eventually occupy the slot.
Honourable General Secretary for Sunyani Municipal, Eunice Oduro qualified as the General Secretary above her opponent Hon. Lucy Vallent Nsiah (NASPA Secretary Sunyani west) by attaining a total of 56 votes.
Honourable Owusu Duodu Emmanuel (Vice President Techiman) won the Financial Secretary post by obtaining 53 votes over his two other opponents.
Honourable Osman Aliu John (Organizing Secretary Kintampo North) was elected as the Regional Organizing secretary when he obtained 46 votes over his other two contenders.
The regional director of national service scheme, Mr. A. A. Abubakar Ahmed said in his speech that this batch of executives stand a better chance of performing extraordinarily since the President elect was posted to the municipal with the National Service farm project.
The president elect Hon. Bangdome hinted that the campaign messages of the contenders who could not make it to their intended positions would be considered where necessary in drawing of the action plan. He thanked all delegates and wished them a merry Christmas and prosperous new year.
Reported by: Daniel Asante NASPA Member Wenchi municipal (0545480615)