WENCHI NASPA UNDERTAKES A CLEAN-UP EXERCISE AT WENCHI METHODIST HOSPITAL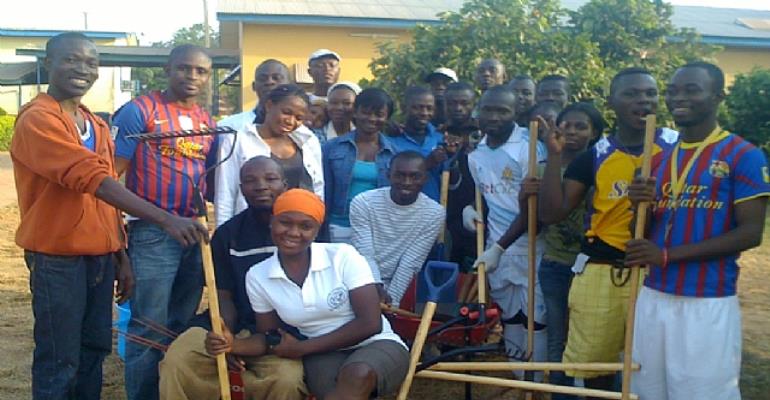 The 2011/2012 national service personnels in the Wenchi municipal last Saturday under took a clean-up activity at the Wenchi Municipal Hospital. The activity was done right after their dawn trotting.
According to their President elect, Mr. Obed Ofori Bangdome, the exercise was planned by the entire executives as a first step to achieve the goal of the association which says: "To encourage personnel to imbibe the spirit of volunteerism, patriotism, leadership and dedication to work".
Mr. Botwe, the Chief Executive Officer of the hospital, who happens to be a patron of the association, thanked the members for choosing his facility. He entreated the executives to organize more programmes of that kind and encouraged the members to put up their maximum to help the association grow strong.
Mr. Adams , the Municipal ZoomLion Co-ordinator, whose presence at the activity raised the morale of the members commended the members and encouraged them to extend their clean-up activities to other parts of the town and pledge his support in terms of equipment. He advised the members to desist from the notion that only ZoomLion Ghana Limited has the responsibility to keep Ghana clean.
In all 34 members turned up for the activity.
REPORTED BY:
DANIEL ASANTE
NASPA MEMBER
WENCHI MUNICIPAL
(0545480615)