Court of Appeal rules on Efutu chieftaincy case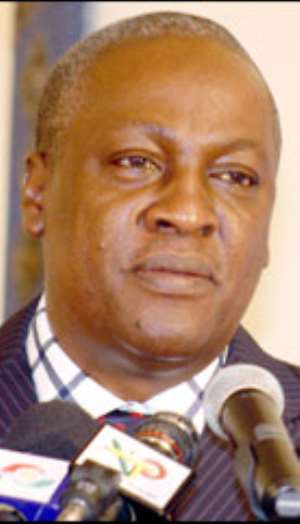 Vice President John Mahama
After 17 years of chieftaincy dispute between two factions to the stool of Effutu Traditional Area, the Ghartey and Ayirebi, which had stalled development in the region, the Court of Appeal has finally confirmed Nana Ayirebi Acquah V, as the reigning Paramount Chief of the area.
The Court, presided over by his Lordship Justice F. Kusi-Appiah, with Justice R.K. Apaloo and Justice K.N. Aduama Osei, ruled on November 3, 2011, that Nana Ayirebi Acquah V is the reigning Omanhene of Effutu Traditional area, following clearance of all bottlenecks in the case, adding that the Omanhene stool could be occupied by one person at a time.
The Court of Appeal's judgement was based on the ruling by Justice Vida Akoto Bamfo on May 5, 1994, which stated that Nana Ayirebi Acquah's enstoolment, though his CD forms were filled and dully submitted by the Effutu Traditional Council, was stalled.
According to the ruling, the decision of setting aside the ruling of the trial High Court of May 5, 1994, was by implication that Nana Ayirebi Acquah is Omanhene of Effutu Traditional Area, since his enstoolment by the people of Effutu in 1993.
The 41-page judgement, shown to the press, made it clear that it was in 1996 that Nana Kobena Bortsie Ghartey VII was enstooled by Otuano House alone, without the involvement of the people, and subsequently and fraudulently had his name in the Register of Chiefs, which attracted a cost of GH¢500 in the Cape Coast High Court, that had not been paid but Nana Ghartey, went into appeal.
At a press conference in Winneba on Saturday to announce the judgment to the press after 21 days, Nana Ayirebi Acquah said the judgment was triumph for the people of Winneba, and that he decided to hold the press conference to make it known to the whole world that the court has ruled on the 17-year dispute.
He said now that the dispute was over, he would ensure that the celebration of the Aboakyer Festival, which has been negatively affected by the chieftaincy dispute, will be held in a grand style, to attract investments into the area.
He was surrounded by Nana Otuboa Siripi, Tufuhen of Effutu, Mrs. Martey and Mrs. Asare, elders of the town, as well as members of the two Asafo Companies and a host of others.
0