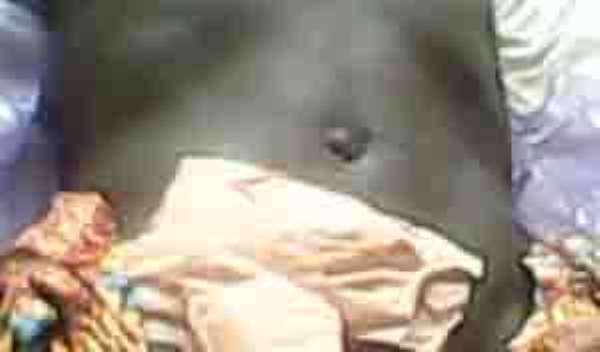 Victim Kwadwo Owusu after the surgery
AKOSUA SERWAA Bonsu, a 31-year-old woman from Anwiankwanta in the Amansie East Municipality of the Ashanti region, was arrested last Saturday evening after she bit into the scrotum of a middle-aged man.
Kwadwo Owusu, 55, a native of Ofoase-Kokoben, had his testicles severed by the woman 'vampire', who now faces provisional charges of causing bodily harm and aggravated assault.
The suspect, who appeared in the Bekwai Circuit Court, was remanded into prison custody by the presiding judge, Daniel Kwaku Obeng, to re-appear on November 29, 2011 to face trial.
Prosecution, Detective Sergeant Stephen Ofori, said the attack happened just around 6:00 pm after Mr. Owusu was returning to Ofoase-Kokoben from Anwiankwanta, where he attended a funeral during the day.
According to the police prosecutor, the accused emerged from nowhere and engaged the middle-aged man in a quarrel, during which she decided to chomp off his testicles.
Akosua Serwaa Bonsu claimed her victim, a palm-wine tapper, had poked his nose into her affairs by intervening in a brawl between her and another unnamed lady in the wee hours of the day.
She allegedly told Kwadwo Owusu she was going to teach him a lesson as she pushed him onto the ground and bit off chunks of his scrotum, prosecution said.
The court heard that the victim's testicles fell off from the scrotum after the attack, rendering the victim weak in a pool of blood before bystanders went to his rescue.
The victim had surgery to re-attach his testicles after he was rushed to the Bekwai Government Hospital, where he would spend several weeks to recover from the attack.
Serwaa Bonsu was arrested by residents and handed over to the Anwiankwanta police, where she has been on remand following her appearance in court.
 From Ernest Kofi Adu, Bekwai