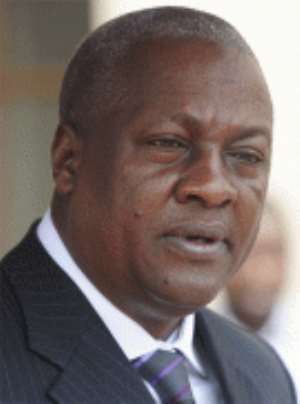 Vice-President John Dramani Mahama
The Vice-President, Mr John Dramani Mahama, has called for a good mortgage scheme that will allow people to own houses within a short span of time in the country.
That, he said, was crucial because many people spent their whole lives earning to put up houses while many were compelled by landlords to pay huge rent advances for about three years.
Mr Mahama made the call when a delegation from the Kelly Everbright Construction Company, a joint China-Ghana company, called on him at the Castle, Osu, on Thursday.
The company has already signed a memorandum of understanding (MOU) with the government for the construction of housing units, sea defence walls, oil refinery, oil storage and water projects.
The Vice-President said housing was a challenging issue in the nation involving about one billion housing deficits.
Therefore, he said, the government was willing to collaborate with partners to construct affordable houses.
He said it was that spirit to relieve Ghanaians of the pressure of housing that made the government to go in for the STX housing project.
On the sea defence, Mr Mahama noted that the country's coastal areas faced challenges with the movement of the sea.
Therefore, he said, it was welcome news that the Kelly Everbright had expressed interest in that area and assured the company of the government's collaboration to succeed.
The Vice-President said Ghana had reached a stage where it wanted to accelerate development and indicated that although the government had predicted a growth rate of 13 per cent this year, other financial institutions were predicting about 16 per cent growth rate.
He said since Ghana had achieved a middle income status, the country was expected to grow at an average of eight to nine per cent annually.
He said Ghana's economy would double within the next 10 years if the country's growth rate recorded an average growth rate of between eight and nine per cent yearly.
Mr Mahama said the nation's economic development required infrastructure development in the areas of road construction, ports, bridges and schools, and called for investments in those areas.
The Chairman of Kelly Everbright , Mr Zhang Huaipu, said the company had professionals who could execute the project to the right specification.
He said the government had good financial standing and also enjoyed the support of the Chinese government.
Mr Huaipu said Ghana's economy was one of the fast-growing economies in the world and that his outfit wanted to contribute to the growth of the country.
The Vice-President of Kelly Everbright, Mr Robert Kelly, said the company wanted to address Ghana's infrastructural needs to be able to meet the challenges of the times.