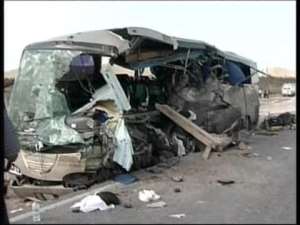 Kumasi, Sept. 17, GNA – One more victim of the fatal car crash that occurred at Yawkwei on the Kumasi-Accra Highway at dawn on Thursday September 15, is reported dead.
This brings the total number of people killed in the accident to 23. The deceased is yet to be identified.
Mr Ernest Abban, Deputy Public Relations Officer of the Komfo Anokye Teaching Hospital, confirmed the death to the Ghana News Agency in Kumasi.
He said 18 of the passengers on admission at the Accident and Emergency Centre with broken bones and deep cuts are in stable condition and responding to treatment.
They include three children between two and 10 years.
The accident involved head-on-collision between two buses that were heading towards opposite directions.
GNA