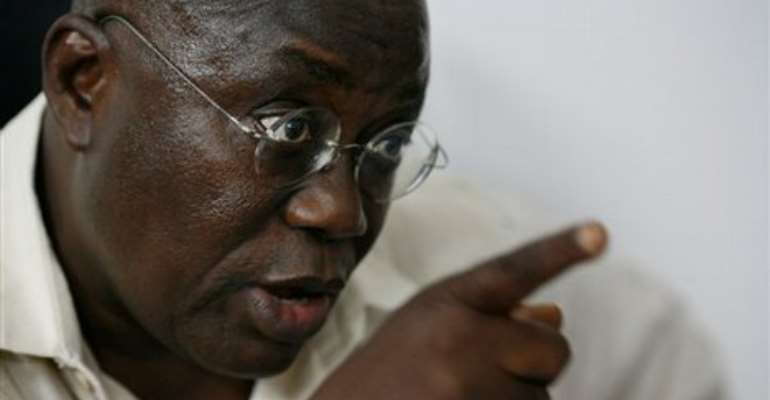 Article by; Austin Brako-Powers (University of Ghana, Legon) +233 242 62 81 64
In our dreams we wonder if the New Patriotic Party (NPP) – a party which ruled Ghana for a whooping eight years ever learned any lesson from their rule.
This is a party that ruined the fortune of our country; sold it to the West for a mere pottage; turned our country into a begging state; and left the poor to their faith.
These have been the features of the eight year rule of John Agyekum Kuffuor.
I don't know what the NPP think they are but I feel they are making "stupid" out of themselves. To show excessive hunger for power just three years out of it is purely madness.
What is wrong with Mills disagreeing with the charlatans in ECOWAS on Cote D'Ivoire crisis?
Why didn't Kuffuor asked for military action against Zimbabwe when he was the AU Chairman?
We have seen the make up of the NPP. This is a party made up of self-centered individuals from the Flagbearer, Nana Addo Dankwah Akufo-Addo to the Party Chairman, Jake Obetsebi Lamptey.
The respect reserved for these individuals is fast dissipating on them.
They are simply petty. They simply don't respect the dignity of the sovereignty of a nation.
I don't think the NPP do not understand the Ivorian crisis, I think they don't know it. The issue is that, they don't get it. If they do, they will not descending into the gallows of pettiness and arrogance they find themselves.
I know Ghana to be a decent, respectful, and affable country. Nkrumah bequeathed to us the need to respect a country's sovereignty.
Mills is right on this issue. I believe as a sovereign nation like Cote D'Ivoire what we can do in this crisis is to help call for a re-run of the election and not to back the failed bodies like ECOWAS and the AU.
If the West will not respect themselves to destroy the sovereignty and the state capacity of Cote D'Ivoire we wish them well but they should know this; Ghana will not be with them. We are independent and we respect the independent of another's.
NPP, Jake Obetsebi, Sir John and Akufo-Addo should grow because Ghana is maturing.