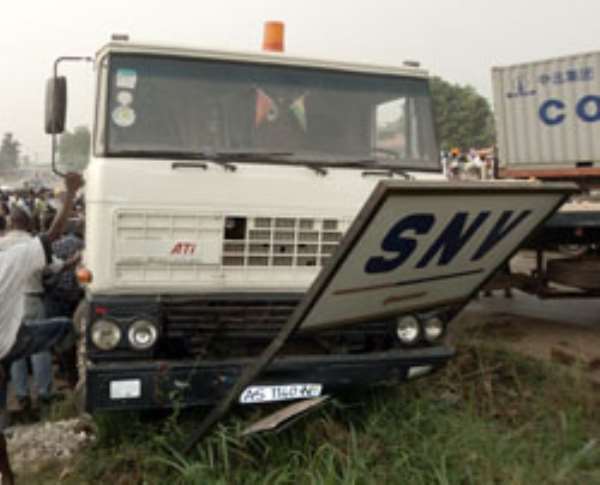 FOUR PUPILS of Agyiba International School in Takoradi and a woman were killed instantly by a DAF articulated truck with registration number AS 1140 N, which did not heed a traffic warden's instruction to stop. 
The names of the four school children and the woman are yet to be known while two other children who sustained injuries are on admission at Kwesimintsim hospital.
According to eyewitness accounts, a metropolitan guard on duty at the accident spot stopped vehicles coming from the Kwesimintsim direction towards Takoradi on the dual carriage, while children crossed to the road's embankment.
The metropolitan guard then stopped vehicles coming from the Takoradi section towards Kwesimintsim so that he could cross with the children.
While a Honda Accord saloon car with registration number WR 1749-09 stopped, an articulated truck moving at a terrific speed hit the back of the private car and climbed onto the embankment and killed the children and woman instantly.
The articulated truck, bearing the inscription 'Forever Young', then crossed the Kwesimintsim-Takoradi dual carriage lane and hit a sign post on the main road to Agyiba International School at Airport Ridge, a suburb of Takoradi.
The police and personnel from the Ghana National Fire Service rushed to the scene and took the dead bodies to the Effia Nkwanta Regional Hospital morgue while some people at the scene including pupils cried uncontrollably.
The Kwesimintsim police commander, Ayamga Yakubu, told DAILY GUIDE that the police had immediately launched full-scale investigations into the case.
From Sam Mark Essien, Takoradi