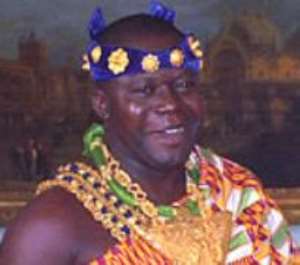 OTUMFUO NANA OSEI TUTU II KING OF THE ASHANTI KINGDOM
Asantehene purchases a £ 3m country house in the UK: (Source: BBC Radio)
The Asantehene Otumfuo Osei Tutu II is said to have acquired a mansion valued at about five million dollars in England.
According to the UK newspaper which published the story, The Sunday Times, the estate is situated in the wealthy neighbourhood of Henley-on-Thames.
The BBC's Celeste Hicks writes that The Ashanti King is the most influential traditional figure of authority in Ghana.
He lives in a palace in Kumasi, the capital of his gold-rich kingdom, but he travels the world often to meet subjects and raise funds for his many charitable educational projects.
This six bedroom of neocolonialism property bought in November is expected to provide an aside from his work. It has an outdoor swimming pool, a tennis court and stables.
It sits on a 20-acre estate with creamy marble floors though out and a cinema room. However it is still the drawing room with double windows, a decorative fireplace and paneling was what caught the eye of the 60 years old king.
Before getting to the throne in Ghana, he lived a modest life in London working for a local council, but like his fifteen predecessors he now lives a grand live holding court with his subjects, playing golf and meeting some of the world's most important people. That includes the queen of England who he met on one of his many visits to Britain. >>> NONSENSE!! AND SO WHAT? MUST HE REMAIN POOR IN THE REST OF HIS LIFE?
Ghana, a producer of gold since the 16th Century, today has one of the largest and richest reserves of gold in the world. >>> YOU SEE!! THAT'S WHY HE(ASANTEHENE) CAN AFFORD SUCH A HOUSE IN THE UK, IF NECESSARY.
The Obuasi gold mine, some thirty minutes drive from the Kingdom's capital Kumasi, is the biggest in the country. So with the mining industry that has been a relative success story, the influence of a king who presides is immense. >>> THEREFORE WHAT?
OBUASI GOLD MINES IS HOWEVER NOT THE PROPERTY OF ASHANTI BUT IT'S IN THE KINGDOM OF ASHANTI AND AS SUCH HE AND HIS ASHANTIS MUST BENEFIT FROM IT. DO YOU THINK OTHERWISE? IF YES, WHAT?
Though without constitutional powers, his approval is sought in many political appointments and decisions. >>> AND? DOES THAT STOPS HIM FROM OWING A HOUSE IN UK?
His office is so revered that public criticism is rare but with this new purchase, many in his kingdom and beyond might just muster the courage to ask questions about the king's priorities. >>> THE ONLY REASONABLE QUESTION THAT CAN BE ASKED IS, IS THAT USELESS SO-CALLED ARTICLE OR NEWS FROM THE BBC REAL? REAL IN THE SENSIBLE SENSE THAT, WHY ASANTEHENE WOULD BUY A HOUSE IN UK WHILE HE IS A LIFE KING OF THE ASHANTI KINGDOM. WHEN CAN HE ENJOY SUCH A AN ELEPHANT HOUSE? THIS MAKES THE WHOLE STORY A PREPARED STORY. SIMPLY BECAUSE IT CAN'T MAKE SENSE. ASANTEHENE WILL NEVER BE THAT UNREASONABLE TO BUY A HOUSE FOR 3 MILLION POUNDS / 5 MILLION DOLLARS WHILE HE MUST STAY IN KUMASI TILL THY KINGDOM COME. THIS VERY FACT MAKES THE WHOLE THING NONSENSE AND FOUNDED.
STOP THAT TRIBALISM AND POLITICAL NONSENSE!!
FRANCIS TAWIAH (Duisburg - Germany)