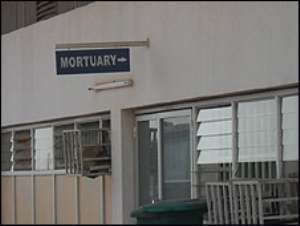 The body of a 48-year-old farmer, who died one-and-half years ago, is still lying at the Suhum Government Hospital mortuary because the family has not been able to pay mortuary fees.

Kofi Ampah, who comes from Apedwa, died at a fetish shrine in Suhum.
Baffour Charles Adjire, acting Odikro of Apedwa, who disclosed this to Ghana News Agency, appealed to authorities of the hospital to release the body to the family for burial.

According to the Odikro, the deceased fell sick and was sent to a number of hospitals in the country but he did not recover.

Baffour Adjire said Ampah was sent to a fetish priest for herbal treatment but he died on August 4 2008 and was deposited at the hospital mortuary.

He explained that due to financial constraints, the family was unable to pay the mortuary fees and the corpse had since been "detained".