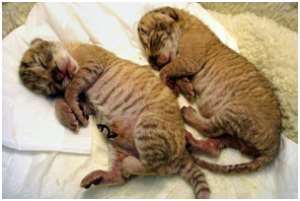 Lion and Tiger
In a private zoo in Taiwan three "Liger "babies are born, a cross between a lion and tiger
TAIPEI, in a private zoo in Taiwan, three "Liger "babies were born, a cross between a lion and tiger. The three cubs were born on Sunday, but one died immediately, said the owner of the land situated in the south of the "World Education Snake King Farm, Mr. Huang Kuo-nan.
The zoo now threatens a fine of up to the equivalent of € 1250, because they have violated the laws on wild animals: They should have first obtained a permit from the authorities for the development of the offspring.
However, Mr. Huang, the zoo manager insisted, the pregnancy of the female tiger surprised him very well because the lion and the puma have been living for more than six years since their childhood together in a cage, but nothing of that nature happened.
It is the first time that such a thing has occurred in Taiwan, to have a Liger in the world. There are only ten Ligers living in the whole world. They can develop bigger than lions, said Mr. Huang, the zoo manager.
FRANCIS TAWIAH (Duisburg – Germany)