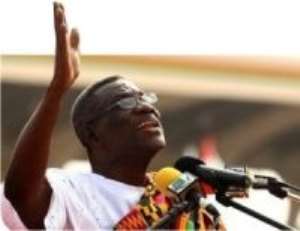 EN-GB X-NONE X-NONE
The attention of the Office of Nana Akufo-Addo has been drawn to the cover story of The Chronicle of Wednesday, May 5, 2010, with the above headline.
The statement issued by Fred Amankwa-Sarfo and published by your paper gave the misimpression that it was issued by the campaign team of Nana Akufo-Addo. The Office wishes to place on record that no such statement has been issued by Nana Akufo-Addo's campaign team.
While the campaign team does not necessarily disagree with the import of Mr Amankwa-Sarfo's sentiments, the statement was not authorised by Nana Akufo-Addo or his campaign team, however.
We have since met the enterprising Mr Amankwa-Sarfo, who happens to be a passionate and committed supporter of Nana Akufo-Addo's presidential bid for 2012.
He admits that the statement was issued in his personal capacity and that any impressions given by his statement that the words expressed wee directly from Nana Akufo-Addo or his campaign team was deeply regrettable.
We will encourage him and other patriotic Ghanaians who are committed to the 2012 project of the New Patriotic Party to bring back hope to Ghanaians to continue with their constructive criticisms of the Mills-Mahama administration and their defence of the truth and Akufo-Addo's remarkable service and contribution to the cause of party and country.
Signed
Mustapha Hamid
Head of Communications