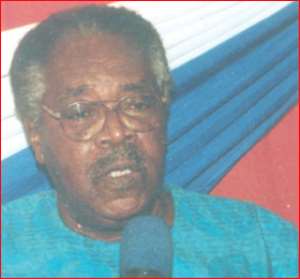 LEGAL LUMINARY and former National Chairman of the New Patriotic Party (NPP), B.J. da Rocha, died yesterday after a protracted illness, according to information available to DAILY GUIDE.
He is believed to have crossed age 80. Mr. da Rocha played a prominent role in the formation of the NPP and until his demise, was one of the very few NPP living-legends who could speak their minds without fear or favour.
Mr. da Rocha's death comes four days before the NPP annual delegates' congress and creates a big vacuum and loss to the party.
He died at a time the NPP former National Organiser, the late Major (rtd) Courage Quashigah, is yet to be buried.
He was the first National Chairman of the NPP when it was formed in 1992, and was known for making everybody know that he was the person in charge during his chairmanship days.
B.J. da Rocha is a fellow of the Institute of Economic Affairs (IEA) and first Ghanaian Director of the Ghana School of Law when it opened in 1958.
He lectured at the school for almost two decades before retiring in 1992 as the first Ghanaian Director of Legal Education.
The following year, the Ghana Bar Association honored him for his contribution to the legal profession.
Though not many of the current generation of political students have the best of ideas about who exactly da Rocha is and his contribution to the political history of Ghana, his strong-heartedness is still fresh on people's minds.
Not too long ago, when NPP flag-bearer aspirant, Alan Kyerematen said he had left the party, da Rocha was one of the few NPP founding fathers who asked that Alan be left alone to quit the party if he so decides, describing him as a loose cannon.
Again, when the selection of a running mate to the then presidential candidate, Nana Akufo-Addo, became a thorny issue, da Rocha authored a rather explosive letter, to chide Nana Addo on his declared preference for Hajia Alima Mahama.
By Halifax Ansah-Addo