Nigeria Acting Prez Holds First Cabinet Meet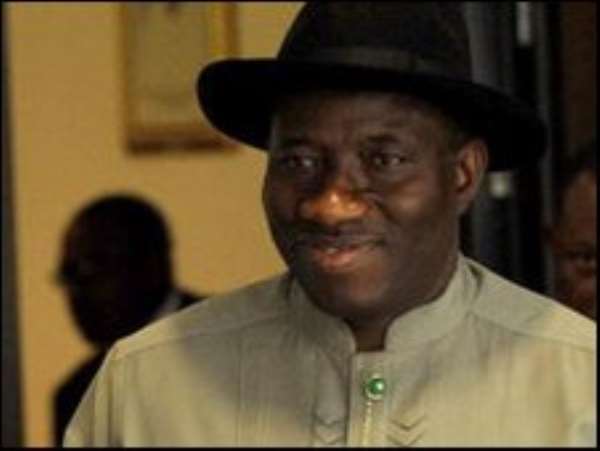 Goodluck Jonathan
Nigeria's Vice President Goodluck Jonathan on Wednesday held his first cabinet meeting since parliament made him acting head of state in place of the ailing President Umaru Yar'Adua.
With Africa's most populous country still in political turmoil, top ministers appointed by Yar'Adua have yet to say publicly whether they accept the votes on Tuesday which made Jonathan the interim leader.
Yar'Adua has been stricken with a heart ailment in a Saudi Arabian hospital since November 23 and opposition leaders say Nigeria has been hit by a power vacuum with crucial business left unattended.
Jonathan acknowledged that the circumstances under which he assumed charge of Nigeria were "uncommon". Some critics have said the votes by the two parliamentary chambers were illegal.
Amid warnings over possible instability in a country with a history of military takeovers, Jonathan commended the security services for "their loyalty and devotion to duty during this trying period".
"I am deeply humbled and honoured by this great call to duty," he said in comments late Tuesday.
Yar'Adua, in his third month of absence, should have informed parliament he was going on medical vacation to pave way for his deputy to step in as acting president. But his only comments since his departure were made in a brief interview with the BBC on January 12. Related article: Nigeria in crisis over ailing president
Parliament said it had been left with no choice but to substitute the media interview for a formal notification.
"The doctrine of necessity requires that we do what is necessary when faced with a situation that was not contemplated by the constitution," said David Mark, president of the Senate.
"And that is precisely what we have done," he said when senators voted by consensus to install Jonathan.
The lower house of parliament backed the move in the interests of "peace, order and good governance".
Parliament's decision sent a powerful political message to Yar'Adua's supporters.
Justice Minister Michael Aondoakaa, who has rebuffed calls for Yar'Adua to transfer full powers to Jonathan, has not commented directly on parliament's decision.
"I don't go much into what they did because ... what they did can override a court decision," he told CNN late Tuesday.
Last month a court ruled that Jonathan could exercise presidential functions but not as an acting president.
"What is important now at this stage is to move the country forward. The main issue is that ... there must be ways of resolving our problems constitutionally," Aondoaaka added.
"I feel the system is working fine because nobody has taken up arms." AP