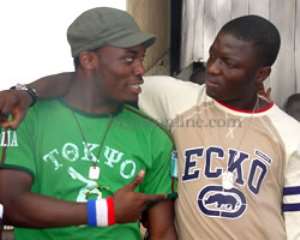 On November 18, 2009 the Ghana Football Association (GFA) noted with concern the absence of some key Black Stars players for a friendly encounter against Angola. The players- Michael Essien, Sulley Muntari and Asamoah Gyan failed to turn up for the trip to Angola. "They stayed out without permission of the head coach, Milovan Rajevac," GFA said. The statement concluded that the GFA viewed the act with great concern and would investigate the matter to inform its next line of action. Prior to this Black Stars' Captain Stephen Appiah and Samuel Inkoom had asked for permission from Coach Milovan Rajevac to attend to club commitments and had been excused.
Under normal circumstances the failure of these three to turn up for a friendly international match could mean nothing so much and a mere warning or rebuke would be enough punishment for them. On the other hand if one looks at their insubordination in relationship to the impending CAN '10 and compares it to the suspicious circumstances under which the same three got injured for CAN'06 in Egypt a clear picture of "yenko" unfolds.
Does this sound familiar to somebody? "With the Nations Cup three days away, the Head Coach has already submitted his 23-man squad which excludes Michael Essien, Sulley Ali Muntari and Asamoah Gyan due to injuries. Coach Dujkovic lamented the absence of key scorers Essien, Muntari and Asamoah Gyan, which he said has affected his teams scoring abilities, culminating in the team's non-scoring performances against Togo and Tunisia. Coach Ratomir Dujkovic has all but written off his team's chances of winning a fifth African Cup of Nations." (Soccer News of Tuesday, 17 January 20060) Out of frustration the government requested the Coach to include Essien and Muntari in order to avoid a first round exit by the Black Stars during the Nations Cup competition. They did not play and Ghana was out in the first round
It could be seen that the trio are struggling to find an excuse not to play in CAN'10. By intentionally absenting themselves from a FIFA sanctioned international match they seemed to suggest to both Coach Milovan and GFA that they had erred so they should be suspended or sacked from the team. Even before GFA would come out with some form of punishment for the trio, a former defender of the senior national team, Samuel Osei Kufuor had said Ghana would look "stupid" if the Black Stars trio of Michael Essien, Sulley Muntari and Asamoah Gyan were left out of Ghana's team for the African Nations Cup in Angola. One Charles N. Nkansah in an article on Ghanaweb on Thursday, 26 November 2009 believed there is no problem of indiscipline with players of our team rather a clear bankrupt technical and indiscipline bench headed by "Mumuvan" Rajevac. Dr. Nyaho Tamakloe would sack the three players from the national team. The Chronicle in its editorial of November 19, 2009 urged Coach Milo and the GFA to follow the footsteps of Coach Osam Duodu, who mustered courage to sack Samuel Osei Kuffour, then Ghana's number one central defender from Black Stars camp during the 2004 Africa Cup of Nations held in Mali.
No teacher, coach, or manager worth his salt would take kindly to gross disrespect, flagrant disobedience and irresponsible behavior especially if the incident appeared to be a challenge to undermine the person and authority of the individual teacher/coach. Just like school children, Ghanaians are waiting for the type of action that would be meted out to the trio. It must be noted that punishment is effective if the individual concerned really feels its impact before it can serve as a deterrent. Since the trio would not want to miss World Cup '10 any punishment that threatens their participation would hurt them the more. However, merely suspending those for one year or relieving them from the team would not be enough. If Ghana performed well in the World Cup without them there would be no backlash. If the contrary happened, Ghanaians would call for the blood of both the Coach and GFA; but the cost of doing nothing is higher than failing. This brings to mind the educational principle which states that a teacher should be firm and feasible. GFA's message here should be strong and uncompromising.
To shift the blame from both the Coach and GFA, one would go deep into their pockets – a total of $500,000 fine to be paid by the three of them. How they come out with the money would be up to them. It could come from one person or they would contribute to come out with it. What would not be accepted is anything less than $500,000 from one or two of them. They would be given a limited time to pay and GFA would make sure that they play in Angola '10. The intention here is to get them to feel the effect of the punishment, to serve as a deterrent to others and for them to prove their loyalty and commitment to the country.
In cases of this nature one has to adopt an unprecedented method to derive the minimum effect from the action. If they really loved the country they would pay to shame the devil. They would either pay and be part of the team or forever say good bye to the Ghana Black Stars.
Essien & Co. should pay it or quit it!!!!!!!!!!!!!!
By: Opanin Kwabena Mensah
Development / Accra / Ghana / Africa / Modernghana.com