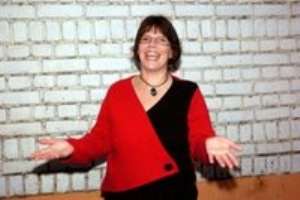 LUCKNOW: Though this is her fifth visit to the Lucknow, state capital of Uttar Pradesh, Kristin Kjaeret, Director FoodFirstInformation and Action Network (FIAN) Norway, an international human rights organisation campaigning for right to feed oneself, maintains that things have not changed even now.
In a candid interview to Citizen NewsService (CNS), she rues the lack of strong political will in India to help people get their rights to live a life of dignity sans discrimination, poverty and starvation.
You have submitted a report on the Right to Adequate food to the Committee on Economic,Social and Cultural Rights (CESCR), in your estimation how is food security going to be in India?
India has had to face a lot of criticism recently from the international communities for not being able to provide people their fundamental right to food. Predictably these communities are now also asking for awareness raising campaigns to highlight not only the right of a person to feed themselves but also the schemes which the Indian government has put in place to allow people to do that. The right to food security for all must be publicised well only then the situation will improve in the India.
What according to you causes the problems of food shortfalls. Is it due to crop failure or of inefficient public distribution system?
Well a case that came to the Supreme Court in 2005 and urged the court to order a food census is a fitting example of what causes food shortfalls in India. When carried out, the census revealed that over 60 million tons of grain was stored in the government godowns but due to lack of efficient distribution systems and effective implementation of government lead schemes the grain did not reach the people causing thousands to starve. So I believe that if the distribution system in the country is freed of discrimination and corruption India can provide people food security very well.
Would you say its the rural economy as a whole which needs to be given attention?
Frankly I have not studied in depth the rural set up of India so to comment on setting up an alternative rural economy would not be right. But I feel everyone is trying to function in the existing system to the best of their ability so setting up a shadow economical system for rural area would not be a good idea. There are already many schemes put in place for the rural sector, if awareness of these schemes can be improved things will change for the better.
You have said that corruption, discrimination and poor implementation of the schemes to provide people their right to food are the reasons behind the violations of human rights in India. How can this be prevented?
Its a challenge, and we are in touch with some Indian parliamentarians who are working on the issues and doing a good job to improve the distribution system. Secondly we are also encouraging them to enact food laws and suggest its implementation with the help other members in your parliament. But as I said a strong political will is necessary for these changes to work.
What are the three important actions the Indian government needs to take to fulfill its commitments to CESCR?
There has to be a strong political will to ensure there are no violations of people's rights and the government should stress upon legislation against the violations and complaint must be redressed immediately. But most importantly the effective and early implementation of the schemes for food security must be focused upon.
If India fails to fulfill its commitments as a signatory, is it liable for legal action?
Let me put it this way, soon hopefully the UN will be formally adopting a policy of OptionalProtocol of CESCR. Through this the ratification of states will be given a legal nature which will enable people to be brought directly to the UN committee and make a statement if their case come up for hearing. The committee has already made it clear that all the programmes for human rights being introduced by Indian government must be implemented and if it is not and the cases it hears proves as much, it will want to know why. FIAN committees in different states in India will be mediated for the people.
There is the issue of genetically modified foods and corporatisation of agriculture which has been strongly opposed by civil society groups. What is FIAN doing to prevent this trend?
GMOs is a widely debated issue worldwide and there are many organisations in USA already opposing it, so FIAN does not feel the need to take up the case of an issue that is already being fitfully addressed. But we are not in favour of GMOs, and we can intervene only if cases of violations of food security arise due to GMOs. Individual cases if complaints are made and if brought to us will be taken up. But we don't lead campaigns against GMOs as a policy.
You met the govt officials of the handicap department in UP to urge them to create jobs for for the physically and visually challenged, what was the response of the officials?
Well (smiles) they have promised to create 1500 jobs this year for the handicapped as as per a law passed in 1995, 3% government jobs had to be reserved for the handicapped. But that has not been implemented yet. The two training centres set up in UP to train people to be fit for the jobs provided to them by the government are now full as, since two years the students have not moved out due to lack of employment generation. But as per our discussions with the officials at the handicap welfare department they have initiated the process of creating jobs for the physically and visually handicapped. So lets hope for the best.
[Photo Caption: Kristin Kjaeret, Director FIAN, Norway]
Anjali Singh
(The author is a Special Correspondent to CitizenNews Service (CNS) and also the Director of Saaksham Foundation. Email: [email protected])