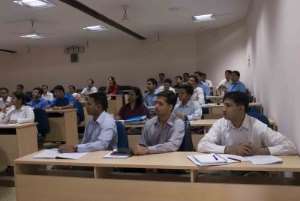 A different kind of training. Ex-defense officers attending a management lecture at XLRI Jamshedpur.
Lucknow: The men in the forces sporting blues, greens and whites certainly have an enviable lifestyle. The respect comes with the job as does the adventure peppered with an aura of safeguarding the country's frontiers. To top it all there's always the glamour of donning a uniform as well.
Sounds good? Sure does. As for anyone an opportunity for making a livelihood in the defense services would seem like landing a dream job. But are the army, air force or navy officers who are already in the job happy with the picture perfect profession they have?
No way! They say. Not surprising either what with most ruing unequal pay scales, rigorous work routines which keep them away from their families and last but not the least slow professional growth. While that may sound quite dreary, the good news is the officers in the forces have now found a way out.
Most are opting out of the services and moving into the private sector to earn a living so that they can maintain a standard of lifestyle they have wanted but have not been able to achieve in the defense forces.
And predictably institutions like XLRI Jamshedpur and the other major B school all over the country like IIM A,B,C,I and L and MDI Gurgaon have become their hot favorites to realize those aspirations.
Says Capt Shakti Tahlan who recently retired from the Army's short service commission and is pursuing a six months Executive Management Programme at XLRI Jamshedpur, "I knew my caliber was way above what the army was utilizing me for so the frustration of not doing enough was really getting to me. So when I got a chance to leave and join a course for resettlement I jumped at it. Currently I am pursuing a six months course in HR Management at XLRI Jamshedpur and post my course will be placed in a private company with a good salary. It's just ideal for me."
A fact that is seconded by Group Capt KS Malimath, who moved out of the Indian Air force after 22 years of service and is currently training at XLRI Jamshedpur as well, "To put it bluntly people are moving out of the defense services to explore greener pastures. Govt organization are no more what they were 20 years back. The armed forces have been degraded by external agents like IAS clan and internally everyone is finding themselves in a rut which is taking away professionalism from the service. Making matters worse is that being in the defense forces provides only promotions which does not exemplify professionalism as compared to private job offers which better professional growth."
While a period of transition is indeed stressful, specially so when it is related to our professional field. Defense officers don't feel the heat that much switching careers thanks to the management colleges they are entering to hone their skills required to excel in the private arena.
As explains Capt Tribhuvan Singh Mankotia a short service commissioned officer with over six years experience with the JAG Wing(Judge Advocate General Branch) a legal branch of the India Army, "I left the army as the respect and repute of an Army Officer has gone down drastically in the recent years. I am a Third Generation Officer and have seen the services change a lot from what the Army was 15 years back. On the other hand job satisfaction is not there, one is restricted in the work they do and the freedom and ideas that can be implemented are curtailed as well. Lot of ego problems and trying to constantly change yourself as per whim's and fancies of your commanding officer are also the reasons why I feel most of us have left the Army."
But does he feel defense officers will get all that was missing in army from a private job?
"Of course," says Capt Mankotia, "The sky is the limit once you walk out of the forces. There are large numbers of MNCs which are ready to select an Army officer based on the training and the discipline which makes us stand apart from the ordinary. But I feel that we also have more scope for job satisfaction in a private job because here the performance/results speak for the efforts put in. Whereas in defense services its more of a ACR based report which assesses our caliber, one may not have done anything or their knowledge about the profession may be zero but in the end what really counts is the ACR. If the commanding officer is happy nothing else is required. Moreover in defence like any other govt job a person knows that nobody can stop his salary and time scale promotions. So majority do not work nor contribute towards the growth of the organization."
Also adds Flt Lt N S V Shalini, from Indian Air Force's Technical Branch who opted out of the services after 8 yrs and is training at a management institute to hone her skills to be able to fit into the corporate world, "Though in the current scenario, working outside of Armed Forces seems less lucrative, in the long run it offers better pay. Also, opportunity for growth is more the prospect of being in your choice of residence seems better. A wide variety of jobs available in the market depending upon the experience of the Armed Forces Officer make the prospect of leaving the forces trouble-free. We also have the added advantage of being able to adapt and handle any job profile which removes any restriction of jobs for Armed Forces personnel. When the job is technical-oriented, those who are qualified and trained on that technology and software will be able to fit well into such job profiles."
But ask her if after being trained to handle combat techniques can defense personnel handle private jobs which need more of people management, pat comes her reply, "It is but natural for ex-Armed Forces Officers to adapt to civilian jobs. Combat techniques involve a huge investment of your physical and mental capabilities and require intense and constant training and updating of skills. In civilian jobs, requirements are not as intense since you hardly face combat-like situations. In addition to that we spend six months to a year in management institutions like IIMs etc learning how to fit into a corporate world."
While the ex-armed forces officers are confident enough, those with experience of having tested the corporate scenario prefer to remain skeptical.
Says Amit Jaiswal, an advocate who has worked closely with defense officers to solve their legal issues related to their employment, "Pursuing a career in the army most certainly limits the scope of growth in terms of the job scenario. Then there is always the stringent Army Act that most succumb to as well which further develops an superiority complex and a dictatorial attitude and mindset in an officer which prevents them from fitting into the proverbial diplomatic temperament a manager in a private firm needs to have. So they eventually end up running their own security firm or take on the responsibility of administration in education field. "
Not so says Col PK Bose(retd), who is currently working with a private company dealing with finance security,ATM Management and high value cash management, "Having led two battalions of the Infantry man management, planning security and movement of highly vulnerable equipment and troops was part of my job. So it's but natural that I take to a similar work profile post retirement. Though I did not take up any management training when I retired I feel the young officers doing so today will only add to their skills and enhance their chances of getting a job in the private sector."
But are such officers cut out for working in a private arena after being trained for combat tactics?
Avers Bose, "Army officers are given skills that are very varied and which are inculcated in him during his training in the defense academies. So they are well equipped to handle manpower, maintain equipments, managing finance in terms of high security cash and salary and funds. The added plus is their people's management skills given the fact that they handle troops made up of recruits from different parts of the country make them ideal to fit into the corporate world. So in my opinion a defense officer is the best choice private companies have to pick up as part of their staff and with most now training in management skills as well the package they have will be the best in the industry."
Well coming straight from the horses mouth there is no doubt that the sky is the limit for those who wish quit wearing fatigues and take on a civilian role. Any takers head honchos?
Anjali Singh, CNS
(The author is a Special Correspondent to Citizen News Service (CNS) and also the Director of Saaksham Foundation. Email: [email protected])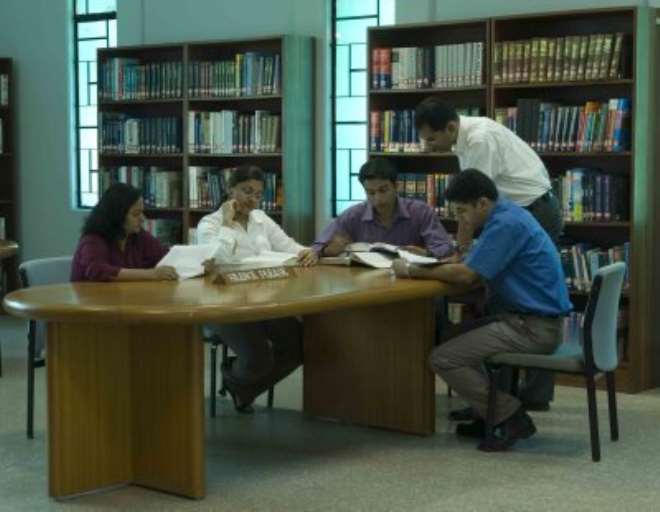 Honing those management skills catching up on the corporate techniques after these officers have perfected their combat skills.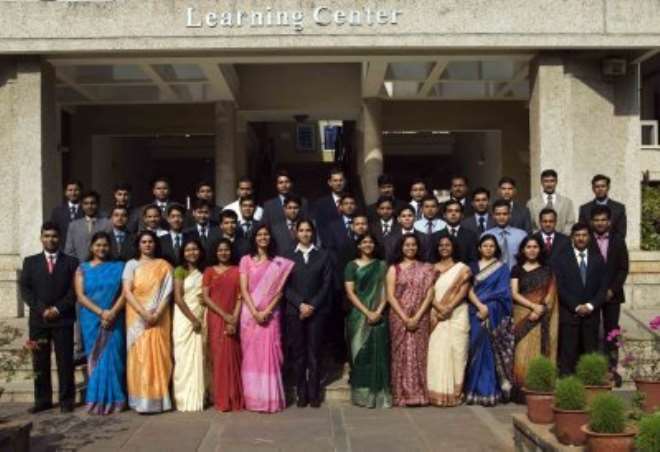 Class of 2009, the Defense Officers Batch undergoing management training at XLRI Jamshedpur.