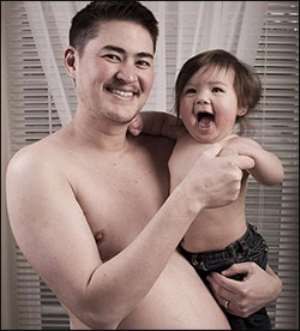 Bump and baby MALE mum Thomas Beatie shows off his new bump — after becoming pregnant for a second time.
The transsexual, 34, posing with first baby Susan Juliette, is expecting another tot in June.
The American, born Tracy Lagondino, became the world's first pregnant man when he conceived Susan through a sperm donor. He said of his latest pregnancy: "I feel good. Everything is right on track."
Thomas, from Bend, Oregon, US, changed sex in his 20s and married wife Nancy, 45. He had a breast removal op and legally became a man — but kept his ovaries. Susan was born last July.