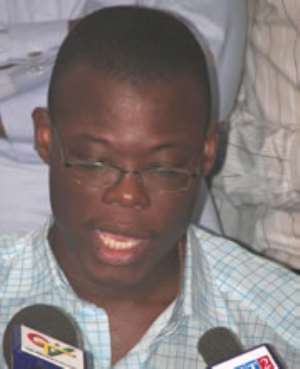 "Perseverance and consistency pays" is not just a cliché but a statement of fact.
Numerous were the strategies he implemented in the run-up to the December 2008 election which culminated in the ascension to political power of the National Democratic Congress.
Being the propaganda secretary of the party, Fiifi Kwetey waged a blazing war on the NPP administration with the initiative he called "Setting the records straight".
This particular move gave the independent minded voters, the opportunity to compare and contrast statements being spewed out by the NPP with the realities prevailing on the ground. This strategy worked to the extent that, the veracity and reliability of his statements during his press soirees were unquestionable.
He has an in-depth knowledge on Social, Economic and Political issues and disseminates it into the public domain with finesse. While lies, misinformation, exaggeration and deception have been characteristic of most propaganda secretaries world over, Fiifi did not feature any of such in the pursuit of his official duties.
He always backed his truths with some level of firmness so as to sink it down the minds of the people.
He continually garnished his delivery with some amount of humility and precision.
Fiifi's blistering attack on the NPP earned him the opportunity to be the last man in his party to speak on any issue he deemed factually fractured by the NPP.
While Fiifi's level of discipline is unmatched, his commitment to duty is unparalleled, no doubt he has been nominated for such a gargantuan position of trust as the deputy Finance Minister. His level of comprehension and appreciation of issues is heartwarming.
Being one of the political prodigies of our time, Fiifi is a perfect description of a political whizz kid and a role model.
With his new appointment, I hope that he would bring his wealth of experience and youthful energy to bear on the job in order to better the lot and lives of Ghanaians.
Fiifi, Congrats. May you live long.
God bless us all.
By Nunya Akumey-Affizie [
[email protected]
]
Student London school of Journalism