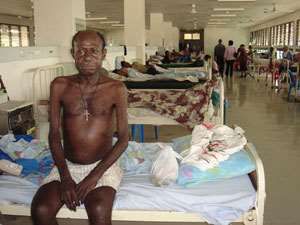 In the beginning of time, according to biblical words after the creation of the universe, the Creator proclaimed that mankind eats the food of the fields and the herbs for medicinal purposes. It is of no doubt that the Creator knew exactly the power behind what he said. Herbs have gone a long way in curing a lot of unimaginable diseases in the world of mankind. Herbs cure diseases including infertility, fibroid, asthma and many others. With the emergence of the dreadful HIV/AIDS disease, which medical experts claim has no cure, but have come up with an anti retroviral drug to suppress the virus. Nevertheless, it did not end there, as herbs have also found a way of dealing with this dreadful disease, in order to alleviate the suffering of People Living with HIV (PLHIV) at ease.
General knowledge on HIV/AIDS According to the Ghana AIDS Commission (GAC), HIV can be transmitted through the blood, sexual fluid, or breast milk of an HIV-infected person. People can get HIV if any of these fluids enter the body and into the bloodstream. The disease can be contracted through unprotected sex with an HIV-infected person. An HIV-infected mother can transmit HIV to her child during pregnancy, delivery, or while breast feeding.
People can also be infected when using syringes through the sharing needles and other equipment. The HIV virus over time weakens the immune system of the body, resulting in the inability of it to fight certain diseases in the body diseases. The immune system of a person with AIDS will weaken to the point where serious medical intervention would be necessary to sustain that person's life.
HIV/AIDS and people In order to decrease the alarming rate of HIV/AIDS, an educative slogan with its initial as ABC was created. The A, stands for Abstinence from sex, B, for, Be faithful and the C stands for Condoms. 'A' means that one should abstain from having casual sex; 'B,' one should be faithful to one's partner – That is married couples; 'C,' one should always use a condom when having sex, to prevent one from catching the disease, supposing one's partner has contracted the virus.
According to the Director of Technical Services at the Ghana AIDS Commission (GAC), Dr. Richard N. Amenya, the HIV epidemic was showing no sign of leveling of in sub-Saharan Africa and globally, as about 7,000 people get infected daily. In Ghana, there was an estimated 26,500 new HIV infections in 2007.
Despite the proven effectiveness of existing prevention approaches, fewer than one in five people are at high risk of contracting the HIV virus, as the current prevention approaches are not practical for everyone, especially women. A number of scientific studies have documented an effective way of adopting safer sex behaviour. This includes abstinence or delaying initiation of sexual activity, decreasing the number of sexual partners, and using condoms consistently and correctly, if sexually active.
A survey, among sex workers in 2006, also revealed that about 91% use condoms every time; 5.3% use condoms almost every time; 3.3% use condoms sometimes and 0.3% rarely use condoms with their clients. Another survey, conducted among men who have sex with men in 2006, found out that about 25% were found to be HIV positive, and 48.1% used condoms the last time they had sex with a male partner.
It was noted that 57% of the total adults infected were women, while 75% of young people infected were female. In Ghana, a total of 300,000 cases of AIDS had been reported by the end of 2007, with about 60% of them female.
Herbs and people Herbs have been used for medicinal purposes worldwide since time immemorial, however, the emergence of technology and modernity has overshadowed its importance. Though the use of herbs for medicinal purposes is important, most herbalists use unhygienic methods when preparing the herbal potions. According to some too much over-reliance on technology, modernity and sometimes religion, has created the impression that herbalists are fetish priests and practice voodoo, thereby making it very difficult for most people to patronise these services.
Mrs. Charity Sampah, who was sick with severe stomach ulcer according to her, tried a lot of orthodox medicines, all to no avail. In her plight, a good friend directed her to a herbalist, who was said to be a specialist in such diseases. According to her, she underwent treatment for two months, and till date, the stomach ulcer has not re-surfaced.
Modernity and available technology has given herbalists the opportunity to improve upon the processing of herbs into tonics, bitters, capsules, pills and even tablets, which they now export to other countries, thereby increasing the scope of their markets.
Despite their efforts at improving their skills and knowledge, the existence of fake herbalists is one of the major problems bedeviling the industry.
Herbal treatment and HIV/AIDS Champion Devine Clinic is one of the renowned herbal clinics in Ghana. It is known for curing diseases like infertility, asthma, and many others. However, with the passage of time, this herbal clinic has brought about a herbal medicine for HIV/AIDS. According to the Chief Executive Officer (CEO), Mr. Kwaku Frimpong, he had developed a herbal formula called the Champ Immune Booster. He said the medicine was an improvement on the original, and drastically restores the health of most HIV/AIDS patients, by rebuilding their immune system.
He made it clear that though the medicine does not eradicate the virus completely, it goes a very long way in suppressing the virus, in such a way that the patient would come to his or her normal self. Despite the fact that he gets no support from the government, he has tried his best to make the price of the medicine very moderate. Receiving the prestigious Award of Excellence for Africa's Best Alternative Herbal Clinic, he boasted about the fact that his medicine had no side-effects. However, one has the tendency of becoming weak, when the person does not eat while taking the medicines. He noted that all the raw material for the medicine comes from Pakistan, and that depending on the CD4 count of the patient, treatment would be administered.
Recounting the treatment of one Serwah Akoto from Asante Mampong, he said she was so weak that she could hardly help herself. In order to avoid embarrassment and scorn, she was compelled to leave her marital home to her mother's place in Kumasi. However, after she had condemned herself to death in such misery, Champion Divine Clinic's Champ Immune Booster came out of nowhere to give her a helping hand. According to him, she started taking the Champ Immune Booster for three months, which has ended up helping her to a very great extent.
Mr. Frimpong, seeing the kind of impact he has made on the Ghanaian society, encourages the use of herbal medicines in Ghana, as against the importation of foreign drugs, which have wild side-effects on human health.
Conclusion Though one cannot guarantee that every herbal medicine has no side-effects, one can as well guarantee that they are natural and without chemicals. Herbal medicines are most of the time very affordable and is patronised mainly by the less financially-endowed in society. Everybody deserves to be healthy, irrespective of ones status in life, therefore there is urgent need to protect and preserve our environment, as it is the main source of herbs, and that is one of the good things the Creator left for mankind.