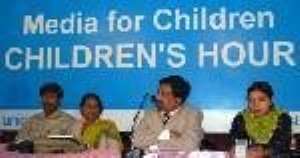 - Citizen News Service (CNS) - Photo credit: Media Nest
"Community radio is the real voice of the people, it is a communication service that caters to the interests and needs of a certain area, its culture, craft, cuisine and above all social and development issues," said Mridul Srivastava, the station director of 'Lalit Lokvani'.
'Lalit Lokvani', is a village community radio planned to be operational in Lalitpur region of Uttar Pradesh state (India). It is a joint initiative of a Sai Jyoti Gramudyog Seva Sansthan (a non-governmental organization) and the United Nations Children's Fund (UNICEF), situated just 22 km from Lalitpur in Alapur village of Birdha block.
The 15 km transmission range will take in its fold 60 villages comprising around 100,000 population. While dry run has been initiated the actual transmission will start after getting the license from the Ministry of Information and Broadcasting, Government of India. For now, the community radio station has been granted 90.4 megahertz frequency.
Mridul, station director and four reporters of the Lalit lokvani, interacted with the UP state media at 'Media for Children', a bi-monthly media initiative organized by UNICEF and 'Media Nest', on issues of women and children. Media Nest is an organization that works for the welfare of media persons and their families.
Mridul and his team of twelve village reporters, including two women, have been provided technical training in reporting, researching, programme production, and broadcasting. As part of their capacity building exercise, they have prepared programmes on local culture, festivals, development, women and health issues.
It is unthinkable that a daughter-in-law of a village can actually record radio programmes, edit and in fact help in solving issues of women, said Sunita Chandel, who shared her experience of being a radio reporter. She said initially there were lots of questions, but once the family and society realised how productive the work was, they gave their permission.
"I am both happy and proud after I became a community reporter," she said. "If it is difficult to step out of one's home for a daughter-in-law, then believe me, it is even more difficult for a daughter to do so, but I held my ground and today I am an example setter-for the village girls," said Varsha, a young community reporter.
This was the first journey outside Lalitpur for both Sunita and Varsha, and they were thrilled with this great sense of empowerment and purpose in life.
For the other two male reporters- Bhagwan Das and Kashi Ram the work has meant the unfolding of a new tool of communication.
"We get a chance to see the real issues of the people and through our work we even provide a solution," said Bhagwan Das.
As for Kashi Ram, being a community reporter was a great feeling of being useful to society and community. He said while earlier he was just a listener of radio today he is the communicator and he enjoys the work which gives him a chance to be a leader.
The Government of India made a policy of issuing private community radio licenses for 5000 stations in November 2007. This made it possible for registered non-government organizations to enter the field, said Augustine Veliath from UNICEF.
"UNICEF saw the potential of this communication medium and selected Lalitpur, one of its integrated project districts for setting up the maiden community radio station," informed Augustine.
"Such interactive sessions with the real people help broaden vision of the media. The idea is to sensitize the press, give them in-depth information on issues which they can then translate into reports and features," said Kulsum Talha, Secretary General, Media Nest.
- Citizen News Service (CNS)