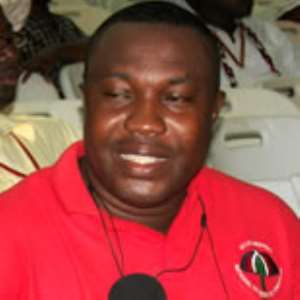 The National Organizer of the National Democratic Congress (NDC), Mr Samuel Ofosu-Ampofo, has been endorsed as the parliamentary nominee of the party to contest the Fanteakwa constituency seat in the Eastern Region.
The party's primaries held at Begoro on Tuesday, gave Mr Ofosu-Ampofo a third shot at the seat having won it two times, in 1996 and 2000, before losing to the ruling party's candidate in 2004.
The Fanteakwa District Director of the Electoral Commission, Mr Sulemana Osman, declared Mr Ofosu-Ampofo's winner by acclamation amidst celebration by NDC supporters, who thronged Begoro in their numbers for the ceremony.
Executives of the party in the constituency endorsed Mr Ofosu-Ampofo's candidature, pointing to an impressive developmental credential, starting from his days as District Chief Executive to his stewardship as a two-time MP for the area.
They said the developments in the district was synonymous with Mr Ofosu-Ampofo, saying that, the construction of the district hospital, the thriving market centres at Ahomahomasu and Ehiamankyene are visible achievements of the nominee.
Other projects credited to Mr Ofosu-Ampofo include the Begoro lorry park, the Begoro town roads and the construction of permanent structures for the Fanteakwa District Assembly.
Addressing supporters, Mr Ofosu-Ampofo said a win for the NDC would enable it to bring relief to workers, who were summarily dismissed without their entitlements, as part of what he called "the ruling party's vindictive policies'
He cited the case of ex-workers of the now disbanded National Mobilization Programme, who were sacked by the present government, saying that, "such brazen cruelty by a government that professes human rights was beyond believe."
The NDC National Organizer asked the electorates to reject the New Patriotic Party at the polls because they do not deserve another term, since their vindictive policies tend to cause more harm to the people than relief.
Mr Anthony Gyampoh, Eastern Regional Secretary of the NDC, asked the electorate not to be lured by money being offered by some political parties to get their votes, but rather "they should scrutinize carefully, which of the parties had the welfare of the people at heart".
He called for total support from all NDC adherents in the march towards winning the December polls, devoid of bickering and any violent acts even when provoked by their opponents.
Mr Baba Jamal, Deputy General Secretary of the party, described Mr Ofosu-Ampofo as a man of immense commitment, whose political career deserves the support of all his constituents to bring more development to the people.