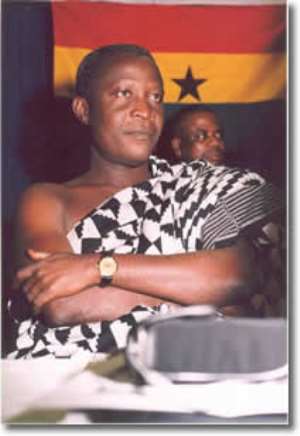 The body of the late Minister of Finance and Economic Planning Kwadwo Baah-Wlredu, will arrive at the Kotoka International Airportin in Accra from South Africa today, Wednesday, October 8, 2008.

Disclosing this in Parliament on Tuesday, the Speaker of Parliament, Mr Ebenezer Begyina Sekyi Hughes, said the Ghana High Commission in South Africa had already communicated to the Ministry of Foreign Affairs that relations of the late minister and high-ranking officials of the High Commission• would accompany the body from South Africa.

The Speaker was welcoming members to the beginning of the third meeting of the last session of the Fourth Parliament of the Fourth Republic.
Thousands of Ghanaians, including the country's political and business leadership, law makers and the clergy are expected to throng the airport to receive the body.
Informing the Members of Parliament (MPs) officially about the demise of Baah-Wiredu, who was MP for Asanfe Akyem North after the reconvening of the House, which had been in recess for almost three months, the Speaker said the body would arrive on a South Africa Airways flight.
Hughes said the leadership of the House received the news of the death made the late minister in South Africa with shock and dismay.
He paid glowing tribute to the late MP describing him as a man who sacrificed his entire life for the good of the broad mass of the people.
He said the late minister's high level of selflessness, sense of discipline and hard work impacted on positively on the various ministries that he presided over during the past seven and a half years.