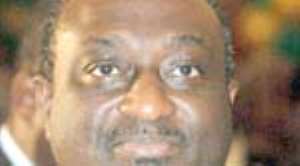 ALAN KYEREMATEN, an aspirant in the presidential race of the New Patriotic Party (NPP) has stated that he would win the party's presidential slot because of his good campaign message.
According to him, he was running a very effective campaign by all standards with the message: "Jobs for the people, Cash for the people", which is in response to the needs and aspirations of the ordinary Ghanaian.
He believed that his message had put him ahead of the other aspiring presidential candidates, and was confident of winning the mandate to lead the party to next year's polls.
Mr. Kyeremanten made these comments in an interview with DAILY GUIDE in Takoradi last Sunday after meeting with the Western Regional NPP delegates to round off his campaign in the region.
He said he was the only one who had articulated clearly that he would add value to what the current NPP administration had accomplished.
"For me, I will create jobs and put money in people's pockets."
Mr. Kyerematen mentioned that when he gets the nod to lead the party and subsequently the country, he would focus on four major areas: industrialization with emphasis on agro-based industry, Information Communication and Technology (ICT), tourism, and infrastructural development with emphasis on energy, telecommunication, roads, railways, ports and harbours.
From Sam Mark Essien, Takoradi