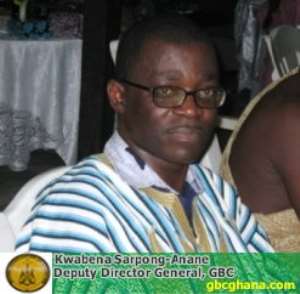 The Deputy Director General of the GBC, Kwabena Sarpong Anane, says the restructuring of the corporation is a move to change GBC and improve upon the conditions of service of staff, as well as its programmes and operations.
Mr. Sarpong Anane said this when he interacted with management and Staff of GBC's Twin City Radio in Sekondi.
The Deputy Director-General said the Board of Directors of the GBC will negotiate with the National Media Commission and the Public Sector Ministry to effect the restructuring which comes off in December.
He said those whose services will be needed will be allowed to stay while measures will be taken to improve upon their conditions of service. Mr. Anane urged the staff of the regional branches to work hard in order to generate funds for the cooperation.
The Western Regional Director of the GBC, Frank Mochiah, mentioned the inability of the station to pay electricity bills as a major challenge.
He said currently, Tarkwa and Enchi stations have been disconnected due to electricity bills which have affected operations in the region.
Mr. Mochiah therefore appealed to management to as a matter of urgency find solutions to the problem to enable customers view GTV as the country prepares towards the Ghana 2008 tournament.