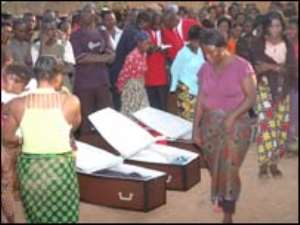 The Football Association of Zambia (Faz) has settled for Konkola stadium to host next weekend's Africa Cup qualifier against Chad.
It ends speculation that the match would be shifted to another venue following last weekend's stampede in which 12 fans died.
The fans were crushed to death as they were trying to exit the stadium after Zambia had beaten Congo 3-0 in a 2008 Africa Nations Cup qualifying match.
Faz spokesperson Joseph Nkole announced his association had been cleared by the Confederation of African Football (Caf) to host the Chad match in Chililabombwe.
"Caf has cleared us to host the match at Konkola stadium because the stampede happened after the match," Nkole told BBC Sport.
"From that angle, the match was successfully hosted according to the match commissioner.
"To avoid the re-occurrence of a similar accident, we have decided to beef up the match organising committee as well as the security."
Sports ministry permanent secretary Bob Samakai added government had also given the game a go-head since it had been cleared by Caf.
"With us, it fine as long as Faz and Caf agree," he said.
However, Samakai could not say when the findings for the inquiry which was set to investigate of the stampede would be made public.
"Most of the people on the inquiry were busy with making burial arrangements for the accident victims," he said.
"They are yet to meet to talk about the findings."
Last weekend's incident at Konkola stadium is the second accident in the last two years.
In 2005, some fans were injured when a floodlight pylon fell on spectators during another Congo African Nations Cup game.
The pylon's collapse was caused by stress exerted on it by fans who had climbed the ageing structure.