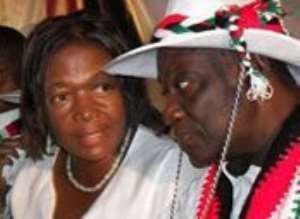 Ernestina Naadu Mills is the wife of the former Vice President, Prof. John Evans Atta Mills and 2008 NDC flagbearer.
Born in Accra to the late Cornelius Teye Botchway, who was in the cocoa business, and Madam Alberta Abetso Abbey, a housewife, both from Prampram in the Greater Accra Region, Mrs Mills attended Aburi Girls Secondary School after passing the Common Entrance Examination with full scholarship from the then Cocoa Marketing Board, now COCOBOD.
On obtaining the West Africa School Certificate (Ordinary Level), she trained as a teacher at the Specialist Training College (STC), Winneba for two years.
She taught at the Kotobabi (One) Middle Mixed School for two years after which she went back to STC for four years and obtained a Diploma in Home Economics.
Upon graduation, Mrs Mills went to her alma mater, Aburi Girls Secondary School, for nine years, teaching Home Economics with emphasis on Clothing Design and Textiles.
In her 33 years as a teacher she has also taught at the Holy Trinity Cathedral and Achimota School.
As a result of her desire to continuously improve upon her abilities, Mrs Mills read for a Bachelor of Arts degree in Sociology and Psychology at the University of Ghana, Legon.
She also pursued a Master of Philosophy degree in Sociology, specialising in Deviant Behaviour and Control.
It is therefore, not surprising that she is an ardent member of the International Council on Alcohol and Addictions (ICAA), a group which educates the public on the ill effects of using hard drugs.
Now a Director of Education, she together with the Regional Director and five other District Directors direct the teaching and learning process in schools in the Greater Accra Region.
Mrs Mills has a deep interest in dogs and she believes her love for dogs is perhaps innate because as a child she helped to take care of the numerous dogs her father had.
For years she kept cross-bred Alsatians and says she had lots of fun with them for "they are faithful and help to offset the pressure of work."
She maintains that quite a number of good people she has met was through her dogs and it is her hope that one day she will write about them.
The former Second Lady, who is also a Christian marriage and family counsellor trained by the Christian Council of Ghana, says, "Many problems in society stem from marriage and the family. It is therefore important that spouses work together to help control the problems associated with marriage and the family."
Mrs Mills is a Christian and worships at the Legon Interdenominational Church (LIC) at the Legon Hall Chapel on the campus of the University of Ghana, Legon.
She says of the many songs the congregation at the LIC sings, she likes "Let there be love shared among us" best.
Credit: The Mirror