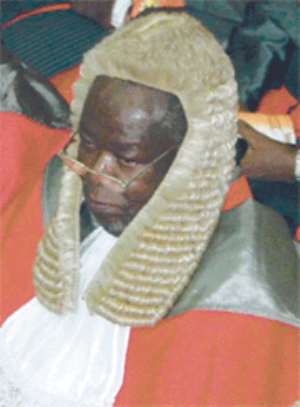 MR Justice F.Y. Kpegah, the most senior among the Supreme Court judges, has assumed office as the acting Chief Justice following the death of Mr Justice George Kingsley Acquah.
This is in compliance with the law, pending the appointment of a substantive Chief Justice by the President, on the advice of the Judicial Council and in consultation with the Council of State and approval by Parliament.
Under Article 144 (6) of the 1992 Constitution, it is provided that "where the office of the Chief Justice is vacant or where the Chief Justice is, for any reason, unable to perform the functions of his office, until a person has been appointed to and has assumed the functions of that office or until the person holding that office has resumed the functions of that office, as the case may be, those functions shall be performed by the most senior of the Justices of the Supreme Court".
Justice Kpegah, who was appointed to the Supreme Court on January 6, 1993, has thus assumed office as the acting Chief Justice until a substantive Chief Justice is appointed.
Meanwhile, the Daily Graphic has been reliably informed that President John Agyekum Kufuor has, in a letter to the Judicial Secretary, appealed to all Justices of the Supreme Court to co-operate and fully support Justice Kpegah to perform his functions to maintain the integrity of the Judiciary.
The following are justices of the Supreme Court in order of seniority: F. Y. Kpegah, W. A. Atuguba, Ms Sophia A. B. Akuffo, Theodore Adzoe, Mrs Georgina Wood, S. A. Brobbey, Dr Seth Twum, S. K. Date-Bah, Prof Tawiah Modibo Ocran, J. Ansah, R. T. Aninakwa, Mrs Sophia Ophilia Adjeibea Adinyira and Samuel Kwadwo Asiamah.