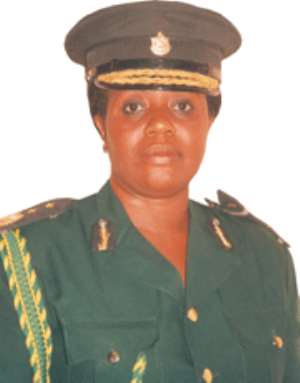 When she completed university, she had the opportunity to undertake her national service with the Ministry of Internal Affairs, now known as the Ministry of the Interior. She worked as a Personal Assistant to the then head of Immigration.
Vacancies were declared for graduates to be enlisted into the Ghana Immigration Service (GIS) in 1988 so as a young graduate, she grabbed the opportunity and joined the GIS when the entire workforce was not more than 60.
She started as an administrative assistant and her duties included providing information on visa regulations and residence permits.
With growing interest in people taking up permanent residence in Ghana and others moving in and out of the country, she has risen through the ranks to become the first female Director of the GIS from 2002 till date.
Today, Madam Elizabeth Adjei has over 1,000 personnel working under her and their duty is to ensure that there are no illegal immigrants in the country.
Spotting her very smart and elegant, leaf green uniform with various shades of medals flung on both shoulders, Madam Adjei, in an interview with the Junior Graphic described herself as a strict and disciplined person who believes in fairness.
"I know I'm noted to be 'hard' and very strict. This doesn't distract me from doing what I have to do because as a leader, it's my responsibility to guide and inspire others, whether they are civilians or those in the force.
Also, to excel as a good leader it is one of my principles to remain strict and fair always," she added.
Dwelling on her past as a child, Madam Adjei said she was born 46 years go into a large family with 11 children from the same parents. Out of the 11, two of her siblings have passed away leaving nine.
She grew up like any regular child with lots of responsibilities. "My father was a public servant who had the additional responsibility of taking care of some of his nephews and nieces. However, he did his best to send all of us to school," she added.
Madam Adjei, who does not really recall her primary school days, said by virtue of her father's job as a public servant that took him from one region to the other, she never had the opportunity to stay in one school for more than two academic years.
Because of this, she ended up having part of her primary education in Sekondi, Bibiani, Cape Coast and the Brong Ahafo Region. "Unfortunately, due to the rampant transfers, I hardly made friends. This made me sad but again it made me more cosmopolitan, that is, I easily relate to everybody and also meet new people very often," she said.
She went through Form One to Five at the Archbishop Porter Girls' Secondary School in Takoradi and proceeded to St Louis Secondary School in Kumasi for her sixth form course.
Sharing her experience as a boarder throughout her seven years of secondary education, she said since the two schools were both Catholic, discipline was paramount.
At Archbishop Porter Girls, she said they were made to weed, clean the compound daily and do some cooking in addition. Apart from this, they also had lessons on how to play the piano, knitting and a few others.
Among her nine siblings, the first four are females and the boys followed later. At home, she said she and her three sisters did all the cooking, washing, fetching water, sweeping and even pounding fufu since the boys were too young to do so.
"You know back in our days we were taught to be independent and supportive of one another. Therefore, everyone did the house chores without nagging yet we had time for our books which was prime," she said.
At school, Madam Adjei who says she was an average student, explained that she was never first in class; however, always did her best to be among the first 10 students.
Among her numerous educational qualifications are a Master's Degree in International Development from the Cornell University, Ithaca, New York, Certificates in Management and Personnel Management from the Ghana Institute of Management & Public Administration, a Bachelor of Arts Degree from the Kwame Nkrumah University of Science and Technology (KNUST) and a Diploma in French from University de Benin.
Madam Adjei, who is married with three children, said she enjoys organising charitable activities for deprived children, raising funds and promoting women's health as her pastime.
In her view, children should be given incentives to encourage them to work hard in school.
She explained that when children know there is a prize at stake for them if they perform brilliantly, they would always endeavour to be at the top.
Likewise, "They must stay glued to their books instead of the television and video games since time lost can never be regained."
Story by Hadiza Nuhhu-Billa