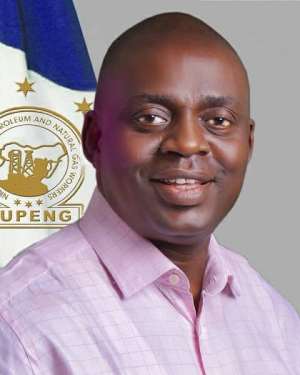 The one time Trade Union built and nurtured by Chief (Comrade) Frank Ovie Kokori with the sole aim to protect and foster better working conditions for the blue collar employees in Nigeria's oil and gas sector is presently on the verge of the precipice having shown all the signs of a failed organization.
The name of the union is Nigeria Union of Petroleum and Natural Gas Workers (NUPENG).
The union now totters and wobbles as it screeches towards a dangerous and avoidable canyon of dry bones, as its staff and members of its branches (NUPENG) can no longer recognise their union which has been battered and buffeted by men and women from the dark womb of time, unfortunately it is not clear if there could be any glimmer of hope to reclaim it from its impending slide to anarchy and total collapse under the current leadership.
Trouble started when the power-drunk General Secretary of NUPENG, Mr Afolabi Olawale tried to manipulate and circumvent the bye-law of the Petroleum Tanker Drivers (PTD) Branch of NUPENG by holding Delegates Conference in Ibadan Oyo State contrary to the dictates of the bye-law which clearly gave Abuja as a legally recognized venue for the election, yet in flagrant defiance to Court order, they went ahead and hold an illegal conference inspite of Court injunction which barred them from doing so.
Many protests were even staged across the Zones of the union including the National Secretariat in Jibowu Lagos, but the NUPENG brazenly turned deaf ears, this is totally unacceptable and truly showed the leadership do not mean well for the union and its members especially the PTD Branch.
Good enough, some law-abiding leaders and members of PTD converged at Abuja on Tuesday, 31st day October, 2023 had their own election brought Comrade Lucky Osesua on board as the National Chairman and Comrade Dayyabu Yusuf Garga emerging as Deputy National Chairman.
Meanwhile, the incident which led to the beating of an impostor who is parading himself as the National Chairman of PTD, Augustine Egbon and his slave-master Afolabi Olawale has nothing to do with Comrade Lucky Osesua and Comrade Dayyabu Garga and other faithful members of PTD, therefore the spurious charges against them are mere smokescreen and mirage which cannot see the light of the day. Nigeria is governed by the rule of law not by sentiments or bias, so Afolabi needs to know this in his own interest.
Afolabi should also know that taking the leadership of PTD to Court by framing them up with lies and unsubstantiated claims cannot hold any water but will further plunge Afolabi into shame and others who think like him.
Afolabi is also seen to be acting like an idle employee who isn't preoccupied with any serious task at the union Secretariat but sees PTD as his baby which he will love to 'pamper' 'spoon-feed' and 'back'. He should realize that Petroleum Tanker Drivers are now very wise and on no condition will they be cajoled by his self serving antics aimed at milking the Branch and siphoning their treasury through crafty and deceitful methods.
Afolabi has forgotten that he was employed by NUPENG and can also be fired, NUPENG isn't his private estate therefore he must show restraint like a gentleman, retrace his steps and stop his high-handedness, overbearing attitudes, overzealousness and despotic tendencies, it is only men who are foolish and with no vision or direction and as well lacking competence and decency that like this behave like this and Afolabi is a good example. What a shame!
The stake in PTD, particularly access to administrative, operational and economic incentives and other opportunities cannot be left in the hands of stooges who want to steal blindly the common patrimony of PTD under the whimps and caprice of Afolabi who has personally pocketed the entire union and acting like a famished baboon who got access to the banana plantation by accident, grabbing at anything and planning to consume everything on sight without thinking of sustaining the plantation for the unborn generation, that is why concerned members of PTD of good conscience are saying enough is enough.
You cannot remand the leaders of PTD in prison and think you have won and that it will now be business as usual and everyone can be silenced, this will never work, how can Afolabi use money being generated by PTD Branch to pursue legal misadventures with the intention to humiliate, embarrass and oppress the national excos of PTD through use of both state and non state actors?
The truth is that he is too clever, by half and shamefully he has not been properly guided by his legal team to educate him about labour matters. You don't resolve internal wranglings in the union outside the union or at the Court, only fools do that because history has consistently show that the consequences of such diabolic action is always catastrophic, which further explains that Afolabi is not grounded in labour activities or trade unionism both operationally and administratively, he is a total misfit and a disgrace to trade unionism by every sense.
I therefore call on Elders of the union to stop sitting on the fence and refuse to allow only one individual to ruin NUPENG that was gloriously established 45 years ago. There is an urgent need for a roundtable discussion to rescue the union and the central objective of this discussion will be to highlight, review and deepen the conversations around the roles and the place of the National Secretariat of NUPENG in the dealings of all the Branches under it, strengthening union's power and fostering building the union through serious and patriotic key players and partners and not by men of poor moral rectitude, wicked and of insatiable appetite for greed and selfish tendencies.
Above all, PTD is already awake and cannot continue to allow its employee to remain its tormentor and at the same time its exploiter, Afolabi needs to be shown the way out of the Union for him to quickly retire to his Ikorodu recreation centre and allow NUPENG to breathe and flourish. PTD members are tired of his shenanigans and show of arrogance which is leading the entire union into no positive destination. EFCC, ICPC, DSS and other law enforcement agencies should commence full scale investigation on NUPENG and as well allow whistle-blowers to expose incontrovertible and deeply damning evidence against Afolabi.
Our listening and labour-friendly President Bola Ahmed Tinubu GCFR, and the Labour Minister should in the interest of peace and industrial harmony help to intervene in this very disturbing and ridiculous situation.
Once again PTD must be allowed to breathe such that its members could peacefully and conveniently be proud and better for what they are doing as they continue to traverse the length and breadth of Nigeria through distribution and transportation of Petroleum products and supply of gas to Nigerians in their homes, offices and factories.
It is no retreat, no surrender, until justice is served and dispensed. I however advise our members to stay calm, focused and law abiding, the first masquerade to dance would eventually become a spectator. Our victory is near and will definitely be total by God's grace. Note also that our leaders are in good condition and sound mind, Comrade Lucky Osesua, Comrade Gayyab Garga and others. Thank you all.