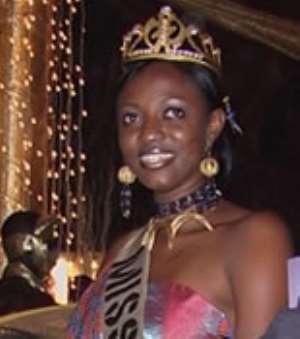 20-year-old Frances Takyi-Mensah, a student of the University of Ghana was on Friday night crowned Miss Ghana 2007.
Miss Takyi-Mensah becomes the 25th lady to wear the coveted crown since the inception of the pageant 50 years ago.
She won from a pool of ten contestants, each representing the ten regions of Ghana in a keenly contested pageant.
Apart from being declared the Golden Jubilee Queen, Ms. Takyi-Mensah also repeated history, representing the Greater Accra Region where the very first woman to be crowned Miss Ghana in 1957, Monica Amekoafia represented
19-year-old Diana Ofori-Addo also of the University of Ghana emerged as the first runner-up while Doreen Delali Akpai of the Kwame Nkrumah University of Science and Technology was the second runner-up.
For her prize, Miss Ghana 2007 was presented with the keys to a new Jaguar X-type.
She was also given a cheque for ¢25 million.
The first and second runner-ups also received cheques for five and three million cedis respectively.
Impressive Pageant
The three-hour extravaganza got off to an impressive start with the national anthem and performances by an array of musicians, young and old.
Hundreds of enthusiastic patrons including the Chief Executive of the [email protected] Secretariat, Dr. Charles Wereko-Brobby and some Ministers of State filled the main auditorium of the Accra International Conference Centre to witness the crowing of the Golden Jubilee Queen.
Thirteen out of the country's twenty-four former beauty queens also graced the occasion with seven of them serving as judges.
And the judges' choice of a winner was unanimously approved by patrons, who responded with spontaneous applause.
Miss Takyi-Mensah says she will focus on creating awareness about Leukemia because it was causing too much havoc in the society and believes education will help stem it.