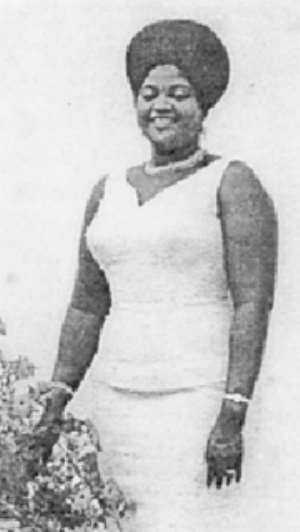 Mrs Mildred Christiana Akosiwor Ankrah, nee Fugar, was the wife of Lt Gen J. A. Ankrah, Chairman of the National Liberation Council.
She was born on June 12, 1938 in Luluaborg in the then Belgium Congo which subsequently became known as the Republic of Zaire but now the Democratic Republic of Congo.
Her father was Mr Benoni Kwaku Fugar and her mother Mrs Pauline Isombe Edembe Fugar, a Congolese citizen.
From the early 1930s the trend in the Gold Coast, particularly among the people of the Southern Volta Region, was for parents to send their promising young men and women to the Congo to work and make a living.
In those days, opportunities abounded in that country, particularly in the commercial sector.
One of such hard-working and promising young men was Mr Benoni Kwaku Fugar. He was very successful in his business in the Congo, fell in love not only with that country but was also bewitched by a stunning Congolese beauty whom he quickly married.
The Good Lord blessed Benoni Kwaku and Pauline Isombe with seven beautiful children and Mildred was the fourth child.
Mr and Mrs Fugar decided that their children should have the best of the two worlds, that is, the then Gold Coast (now Ghana) and Congo.
Because of the superior educational facilities in the Gold Coast at that time, Mr and Mrs Fugar sent Mildred and her younger sister (Florence) to Keta, Ghana, to be educated in the English system and return to Congo on completion of their education.
They reckoned that Mildred and Florence would not only have become experts in the English and French languages, but also their educational horizon would have broadened, thus opening the vistas for more career opportunities for them.
Mildred and Florence came back to the Gold Coast in 1951 and enrolled at the Keta Roman Catholic Convent in the same year. Mildred successfully completed Middle School at this convent in 1957.
Eager to pursue further studies, Mildred entered the Universal Commercial College, Somanya, in 1957 and successfully completed her course in 1959.
So satisfactory were her conduct, general comportment and exemplary approach to studies that the school had no difficulty making her the Girls' Senior Prefect in 1959.
After completion of school at Somanya, Mildred gained employment at the Central Revenue Department, now Internal Revenue Service.
Once again, she became a person to whom most people gravitated either for official advice or to seek solace for personal problems or just to court her friendship. She was loved by all and sundry.
Mildred and her sister Florence could not return to Zaire after completion of their education in Ghana as was planned by their parents. The unending crisis in Congo made their return to that country an impossibility.
Mildred first met General Ankrah in 1962 under very interesting circumstances. Her younger sister Florence had gone to Burma Camp to submit an application to be recruited into the army, which had then started recruiting women as auxiliary corps.
When Florence arrived at Burma Camp, she did not know where to go and whom to see. But she saw two elderly soldiers with several medals shining on their chest standing by a car and engrossed in some discussion. She concluded that they might be able to help her.
She plucked up courage, approached them and asked to be directed to the 'boss' of all the soldiers. She did not know then that she was talking to the late General Otoo who was then the Chief of Defence Staff and the late General Ankrah who was the Army Commander.
The two men burst into laughter and thereafter asked why she wanted the 'boss' of the soldiers. She said she brought her application for recruitment.
When she mentioned her surname and the fact that her father was a UNO Food Contractor for the UN troops in the Congo, Gen Otoo and Gen Ankrah were so touched that after a military assistant collected the application, Gen Ankrah decided to give Florence a ride in his car to her home to meet the rest of her family.
Gen Ankrah met Mildred that afternoon and the rest is history. Mildred and Gen Ankrah got engaged in 1965 and married later.
Following the change of government in 1966, Mildred became the second First Lady of Ghana. She was a very affable First Lady who provided all the beauty, the elegance and class which her office and that of her husband demanded.
She knew precisely what to do to enhance the image of the Office of the Head of State and that of the First Lady.
She knew the parameters and performed most creditably and elegantly within those prescribed parameters.
With the retirement of her husband from public office, Mildred plunged herself harder into social work.
As a very keen churchgoer, she worked very hard to become the class leader of the Methodist Church Wesley Society; a key member of the Methodist Mutual Friendly Society; a member of the Accra District Wesley Christ Little Band, a Patron of the Wesley Choir and a Patron of the Hans Memorial Club.
She was also a member of the Grand United Order of Odd Fellows. Mildred was a key member of the Caring Sisters Association.
Mildred died on June 9, 2005.