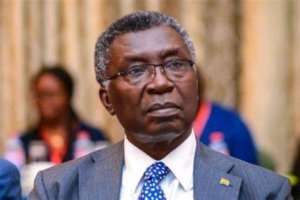 Former Minister of Environment, Science, Technology and Innovation, Professor Kwabena Frimpong-Boateng has taken a swipe at the government following an arrest by the Office of the Special Prosecutor three weeks ago.
He cautioned government officials to be circumspect of their actions as they will not be in political rule forever.
The former Chairman of the defunct Inter-Ministerial Committee on Illegal Mining (IMCIM) was invited by the OSP in May, to answer questions regarding his report.
He said he was later granted bail of GH¢2 million without any charge.
In a 37-page report, the well-known heart surgeon indicated some top appointees of the ruling New Patriotic Party leaders for indulging in galamsey and interfering in his job then.
Persons indicted in the report included leading members of the New Patriotic Party such as Gabby Asare Otchere-Darko, Director of Operations at the Presidency, Lord Commey, Information Minister, Kojo Oppong Nkrumah, and a host of others.
All persons mentioned have denied the allegations.
Prof Frimpong Boateng speaking on Joy News stated that he felt targeted by the invitation of the Office of the Special Prosecutor.
"I'm saying that life is not static, as some point somebody will be at the opposite end and will be receiving this same treatment. Is it the most important thing to be worrying any investigator? I'm not saying that if I have done something wrong I should be let loose, no. Looking at what I have done for this country, I'm not saying I'm an angel. I know there are many wrong things going on now that worry Ghanaians.
"Those in authority, I'm not talking about Jubilee House but those who have the power to do things, people who don't have political power but they are very powerful. If this is how they want to do, so be it, let them go ahead. For my family they are tough, but my friends abroad they are worried, some have fallen sick that I was arrested," Prof Frimpong Boateng stated.
He stressed that he is not scared to account for his stewardship since his hands are clean and cannot be soiled by his distractors.
"Fine if I'm prosecuted, I'm not scared, why should I be scared. I don't see any possibility of me being convicted but look in this life, the son of God Jesus Christ was convicted and killed. If bad people want to kill you, they know what to do to kill you. If people who have the power to do things want to ditch you, they will know how to do it because it happens. So whatever you are doing, we should be clever that you are doing everything in the interest of Ghana. These are monies belonging to the people, and so we should all account for our stewardship. If I have done anything wrong, I will go before the court and answer questions," Prof Frimpong Boateng asserted.