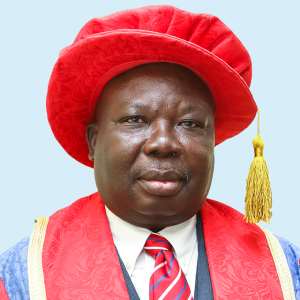 Nana Ofori Ansah I, Council Chairman of the University of Education Governing Board
The Council Chairman of the University of Education Governing Board, Nana Ofori Ansah I, has expressed regret that some elements within the University under the guise of concern staff fabricate stories about him, VC and management.
Others according to him run to the court with simple administrative matters which could be handled by the University, whilst others serve as soriegate who should not be meldling in matters of the University.
The council chairman of the University expressed this concern at the 27th graduation ceremony of the University in Winneba.
He used the opportunity to stretch a hand of friendship to aggrieved staff and called on them to come for dialogue.
He hinted that the University's governing council has set up an investigative committee to investigate any alleged financial malfeasance and further appealed to individuals with information to make it available to the committee.
The Vice Chancellor of the University, Prof. Mawutor Avoke, attributed success made by the University despite numerous challenges to the tenacity and resilience of management and staff.
He listed the completion of the construction of a commercial centre, resumption of lecturers' complex at the North Compus, the University hospital, faculty complex at Ajumako and the graduate block at the North Compus as some of the infrastructural projects by the University.
A total of 12,996 students are expected to graduate. Out of this figure, 385 students representing 2.96%, will be awarded diplomas, 11,690 representing 89.95% will be awarded first degrees whilst 921 representing 7.09% will be awarded various certificates.
According to Prof. Avoke, 604 obtained 1st class, 3,457 2nd class upper division, 2,505 had 3rd class whilst the rest obtained a pass.
He reminded graduands to use the certificate and knowledge acquired to navigate their path through life. "These qualities will set you apart and make efforts to forester social environment that will allow you to explore to improve on your potential", he stressed.
He asked them to learn new carrier tools and network with people for opportunities.