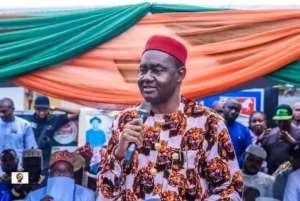 Senator Magnus Ngei Abe, Nwanne Dina Mba indigbo on the occasion
Governorship candidate of the Social Democratic Party (SDP) in Rivers State, Senator Magnus Ngei Abe, has said that the Igbos are a significant bloc in the politics of Rivers State.
Abe made the remarks at a ceremony in Port Harcourt organized by the Igbo Community in Rivers State to endorse him as their sole candidate in the March 11, Governorship Election.
The Senator said that, in the history of politics in Rivers State, everybody who understands politics in Rivers State understands that the Igbos are a significant bloc in the state emphasizing that anybody with such support is already a front runner.
Abe said: "The Igbos have never come together to endorse only one candidate. This is the first time in the history of politics in this State that the Igbo people Indi-Igbo in Rivers State have come together across party lines, across every divide to endorse one candidate for the governorship of Rivers State and I, Magnus Ngei Abe, I am the beneficiary of that grace.
"I did not campaign for it. I did not lobby for it. I have not spent a penny. Even the clothes I'm wearing here was provided for me by the Igbo people. All I have to do was to come here today and accept your love.
"This kind of trust, this kind of commitment, this kind of love to a politician in this country where nobody believes anything that any politician says is unprecedented.
"My prayer today is that, Almighty God who holds the future in his hands and knows us even more than we know ourselves, will not allow me to disappoint you. And let me put it on the record that the Igbo people did not ask me for anything. There is no pre-negotiation. All they told me was that I should serve God and see that the people are protected so they can do their business.
"That is all you have asked me to do. That I should abide by the oath of office that I will swear before you all.
"Let me assure you, I know and I have said it severally and I think everybody is beginning to believe it now, even with what we are seeing today. I have neither silver nor gold but what I promise is that I will uphold the oath of the office of the Governor.
"Everybody in this state will be treated fairly and justly. Everybody, regardless of where you come from and who you are, everybody in this state that is ready to work hard and prosper will be given an opportunity in which hard work will yield prosperity.
"Everybody who lives here, you vote here, you bring up your children here, you have called this place your home, we will build a home together in Rivers State that all of us would be proud of, and most importantly, I think it is important that I say this, there will be no excuses.
"I will not come back to stand in front of Rivers people and begin to give excuses why we cannot do what is right and why we cannot make your life better.
"There will be no excuses".
Earlier, in an address presented by the secretary of the Igbo Community in Rivers State, Mazi Ikechukwu Edward Osisiogu, on behalf of His Royal Majesty, Eze Stanhope Ogadinma Okeorji, said before this time, different Igbo groups had endorsed Senator Abe 'even Igbo groups who have not been in good terms are all here, setting aside their differences and agreed to come together to speak with one voice'.
The address reads in parts: "To us, Ndigbo, it is a very good sign that God is with you and that God is involved in your project and we will leave no stone unturned to make sure that victory is achieved.
"We profiled every other candidate before we came to this conclusion. For someone calm, intelligent and smart enough to govern a complex state like Rivers State, Chief Senator Magnus Ngei Abe has that capacity.
"For good and bright ideas to make Rivers State an investor's haven, Chief Senator Magnus Ngei Abe stunned us with his great plans for Rivers State and you can see his sincerity and optimism that this dream is achievable as it is not rocket science in cities and countries where it was deployed as a proven formula.
"For the security of lives and property of Rivers people, Senator Magnus Ngei Abe has the answers.
"For Industrial Parks, International Standard Markets and shopping Malls, Senator Magnus Ngei Abe said that it is a necessity for Rivers State to grow economically, that government will create enabling environment for businesses to thrive and facilities built to make business people more comfortable in their business environment.
"In Agriculture, let us not forget that SMA was part of a government that set up some farms in the State, and he was tagged the brain box of every good idea in that administration, he will take agriculture from where they left it and he promised to revamp the agro-business in the State, which will help create jobs for the youths and the women of Rivers State".