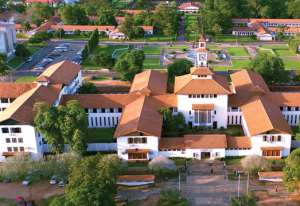 The management of the University of Ghana (UG) has instructed its lawyers to vigorously fight an injunction secured by some students of the Commonwealth Hall seeking to stop the university's new residential policy.
In a statement, the University stated that the injunction was secured on inaccurate information by the supposed students.
"Management of the University of Ghana has received a copy of an order for an injunction issued by the High Court, Commercial Division, Accra. This order was secured by eight (8) persons purporting to be residents of Commonwealth Hall.
"The order seeks to restrain the University from implementing a residential policy decision affecting continuing students of Commonwealth Hall. The University believes that the order was obtained on the basis of inaccurate information. Accordingly, the lawyers of the University have been instructed to vigorously defend the University in court," parts of the statement by the university stated.
The university added that in the meantime it would put in place adequate measures to create a conducive environment for teaching, learning and research.
UG on October 26, 2022, asked the continuing students of the Commonwealth Hall to find accommodation outside the campus.
"All continuing students of Commonwealth Hall and continuing male students of Mensah Sarbah Hall will not return to these halls, or to any of the traditional halls. They are to be randomly assigned to available rooms in any of the UGEL and private hostels.
"Beginning from the 2022/2023 academic year, only Level 100 and graduate students (Masters and PhD level) will be assigned to Mensah Sarbah and Commonwealth Halls. Subsequently, undergraduate students will vacate the halls at the end of Level 100 and may secure accommodation in the private hostels from Level 200 until completion," UG management said.
By Citi Newsroom