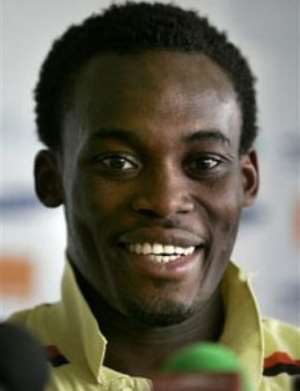 CHELSEA'S performance so far this season is plain awesome. Seven games, seven wins and just a single goal conceded. And, in the centre of this record start to the South London side's season is a young Ghanaian man of 22 years. His name is Michael Essien and he is the most expensive player in the history of England's biggest spenders, Chelsea FC. He cost £24.4 million ($43.3M), a record for an African player.
Indeed, Essien is not your typical Ghanaian or African player. He is economical but deadly effective with the use of the ball. Very skillful though he is, Essien does not believe in exhibitionist soccer and that explains why European coaches love him.
"Essien is a great player," said Chelsea coach Jose Mourinho. "He can play every position in midfield. Where he is perfect is in choices. In football, the most difficult thing is to choose well, and in every situation he chooses well. He presses, stays in position, passes long, passes short, first touch or two touches. He controls the pace of the game, fast or slow."
His coach at Lyon, the team he led into two straight league championship victories and the semi finals of the European Championship League this year, was even more baroque in his praise of Essien. "I haven't seen anyone like him." insisted Paul Le Guen. "He's unbelievable. I just wish we could use him as a defender and midfielder at the same time." Gerald Houllier, Le Guen's replacement was to build his team around the Ghanaian midfielder. In the end, the lure of Abramovich billions was too much for the provincial French side to resist.
In France, he earned the nickname Bison. It was this combination of skill and grit that made one of the hardest players in France win the country's Footballer of the Year award in 2004-05.
Two days after heading Ghana to a 2-0 win against Uganda and for Germany 2006, I was seated next to Essien on the flight to London. My first question to him was, "you came off injured in the second half, are you fit to play Sunderland this weekend?"
He said "Yes."
"I knew it!" I said with a sense of accomplishment, "You weren't actually injured were you?"
"Oh," he chuckled with that modest but charming smile of his, "I was but, er, er" he continued with that mild French accent of his, "It's not so bad now."
He said the Rwandan referee later on apologised quietly to him for what was seen by many as his rash brandishing of the yellow card against Essien. Another yellow after that would have disqualified the Black Stars' star player from the final qualifier with Cape Verde.
A few days later, after returning to his temporary base at the plush Chelsea Village, Michael Essien pulled and pushed Chelsea to win 2-0 against hard men Sunderland, a match that the English champions played awfully.
Chelsea's players, all returning from international duty, did look unusually weary, but as the reporter of the Times newspaper of London put it, "with the honourable exception of Michael Essien, who showed no ill-effects from his return trip to Africa. Having taken Ghana to the brink of their first appearance in the World Cup finals last weekend, the 22-year-old took this opportunity to be his club's inspiration, hustling, harrying and driving the home side forward."
With all their oil money, Chelsea went through a tortuous summer in their bid to lure Essien from the French champions, Lyon. In the eyes of sporting analysts, Chelsea may have appeared to be held to ransom by Jean-Michel Aulas, the Lyons president, but the club-record £24.4 million they paid for Essien's services is looking more and more like a bargain.
In the words of one sports journalist, "With Roy Keane in decline and Patrick Vieira in Turin, Essien has the potential to be the [English] Premiership's dominant midfield player for years to come and Mourinho knows it."
Born in Accra, on December 3, 1982, Essien is not only handsome with his feet. Indeed when I sent an SMS to my darling wife that I was seated next to Essien in the BA sleeper, her response, "He's cute, tell him I say so." Of course, I was too masculine to relay that kind of message.
He completed one of the best schools in Ghana, St Augustine's College, Cape Coast. He is a David Beckham with brains. He wears the latest fashion – but it has to be jeans. He has a gorgeous lover, who is helping him buy a house in London, whilst his best friend Drogba helps him to settle in the Stamford Bridge side.
His girlfriend, whom he met in Accra three years ago, sat on his left side on the flight.
"Are you going to marry her," I intrusively asked.
He smiled and said, "Well, we'll see."
Five years ago, and after winning a gold medal with Ghana at African Under-17 Championship and bronze medal at World Under-17 Championship, the fate of the Ghanaian teenager was in limbo.
A trial with Manchester United was a disaster, when his Ghanaian colleague for the trial, Atiku, gave a bad impression of himself to the anger of the Manchester United management. For his part, Essien was alleged to have taken too many freebie shirts from the Manchester United club shop!
Now, he can afford to buy all their weekly stock. His take-home salary at the end of a week's work for Chelsea is put in excess of $100,000, approximately ¢900 million.
"So how much do you earn weekly," I asked.
"Huh!" he responded, shaking his head sheepishly, "I can't say that."
This uncomplicated guy, who shuns the limelight still cannot escape controversy. Indeed, stardom in Europe means controversy even if the tabloids have to force it.
After two years in Bastia from Liberty Professionals, his 7.8 million euros ($9.41 million) record sale from the Corsican side to Olympique Lyon ended up in a court case, with the suggestion that the transfer fee Lyon paid Bastia for him was passed on to the nationalist movement in Corsica.
That same transfer deal has gotten FIFA president Sepp Blatter reacting with a suggestion that Essien's agent, Fabien Piveteau, should be suspended.
Piveteau, who is still a licensed agent with the French football association, was convicted in May for being an accessory to the diversion of funds from that transfer, and is awaiting an appeal hearing.
So is he moved by all the brouhaha about him? The celebrity status and all that? "No. I'm really a quiet person. I like to stay humble and focused on my game. I don't think all the money and noise about me can change me," he told me. Indeed, he admits publicly to being a mummy's boy, who places an international call to mama Aba here in Ghana on almost a daily basis.
After making his full debut for the Black Stars in the goalless 2002 African Nations Cup against Morocco, Essien has grown alongside Captain Stephen Appiah to become the main engine drivers of the national side.
He admits he knows his stardom status has made him a role model for many young footballers of Ghanaian parentage both at home and abroad.
He told me that there is a wealth of talent of Ghanaians at home who could perform remarkably well given the kind of exposure he has benefited from. He is still considering options on how to give something back to Ghana football, besides his extraordinary on-field contributions to the national side. Also, he thinks the Black Stars' imminent debut appearance in the World Cup next year could convince many second generation Ghanaians playing in youth leagues in Europe to begin looking back home.
"I think if we manage to do well in Germany, it would make the idea of opting for the Black Stars rather than hoping for a call to play for a country like the Netherlands, France, Germany or England, a very attractive option for the young Ghanaians out there with European citizenship," he argued.
When it was disclosed to him that Deputy Minister of Education and Sports, O B Amoah has initiated a policy of scouting the world in search of such talents to be groomed for the Black Stars, Essien welcomed the idea.