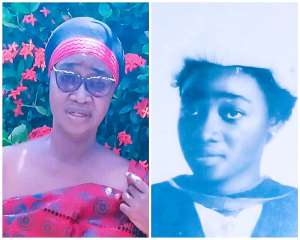 Forward: Nana F. Busia is a Senior California USA/ Ghana Attorney, with legal forensics and Significant International Consultative transactional portfolio including UK/ legal &Technical Advisory for UNDP/Government of Ghana on Small Arms, Peace and Security Programming as well as a Ghana Activist, as summary basis for this legacy Article
IN FOCUS: Hello Oman Ghana, #isGhanaaonepartye-levystate? Ghana is being constricted in an NPP/NDC prison Contest... This is the Context of a rather vivid constitutional dissonance when a Supreme Court "SC" ruling makes a Deputy Speaker a chameleon that can ride roughshod over the disabling clause of Article 102, which does not COUNT "the person presiding", as part of a quorum. This is replicated in 109 C of the Parliamentary standing Orders, in strict compliance with the Constitution in order to hold Any and Every Occupant of the Speaker position Unbiased and Accountable at all times, albeit momentarily.
The SC has sanctioned that a Deputy Speaker can "turn coat", remove the Speakership "kente cloth mantle", and mount up with eagle wings over an absentee substantive Speaker, and then powerfully descend from that high edifice to become an ordinary floor member partisan-MP, to cast an effective deciding vote in a split parliament when per Article 104 (2) "The Speaker Shall have Neither an Original nor Casting VOTE". We are definitely entitled to ask, how can this constitutional disharmony MIRACLE be?
Let us give a courteous akwaaba wave to the "unanimous" Supreme Court, which has discomfited us with the notion that the Deputy Speaker can literally eat his controversial " e -levy cake " and have it too, in violation of the unambiguous collective Speakers' non-partisan piety imperative, in article 102 which is not limited in scope to the Speaker, but to Any Person who plays that role. How can a substitute, the deputy, do what the Constitution mandates the Office Holder SHALL NOT Do?
The 1992 Constitution is so adamant about this disabling provision that it requires an MP who becomes a Speaker to vacate his seat in Article 97(1) ( b). This is in order to ensure parity in this parental "in locos parentis" continuity of Article 295 (2):ie, unless the context otherwise requires, "reference to holder of an office INCLUDES reference to a person for the "time being" lawfully acting or preforming that offices functions".
There is no contrary context to negate article 102 requirement for a Deputy Speaker who "Dismounts" the MP seat for the "time being" when he Mounts the Speakers seat, which is an uplift over peers with different rules to officiate proceedings. This is also in order for the Constitution to have organic internal sanctity or coherence as regards propriety or at least the appearance of propriety.
Why are we crying yoo yoo wolf, to validate an apparent constitutionally illicit VOTE of a Deputy Speaker who plays a limited mutually exclusive Speaker /MP hybrid role as needed, when the hanging SALL Communities have no MP 'mpo', in supreme political hypocrisy in an animal farm Ghana, where it is okay to have stateless & disenfranchised communities by operation of the EC's gazetted CI 128 which has not been pronounced unconstitutional but rather a prohibited VOTE which is VOID and arguably an abuse of the Speaker privilege as a dereliction of the higher duty of being an unbiased umpire overseeing an impartial legitimate vote, devoid of ballot snatching etc! Is deemed Constitutional which it is Not!
The framers of the Constitution were mindful to introduce a compromise provision in article 96 (b): that both of the two Deputy Speakers " SHALL NOT be members of the same political party" so that neither the majority nor minority is unduly or singularly burdened by the voting prohibition
However, by " kpa kpa kpa" political expediency of the "defective" 4th parliament we have the Independent MP who is aligned to the majority as the 2nd Deputy Speaker. Does this not violate Article 97 (1)(h) which requires that a member of Parliament shall vacate his seat if he was elected a member of Parliament as an Independent Candidate and joins a political party?
How is 'Alignment' practically different from 'joining' and by the way, is the 2nd Deputy Speaker still a member of NPP or is it just a one-person pragmatic coalition without the formal NPP party card for an "illicit Deputy" post as an NPP backdoor 'buy-back' of its former MP with the collusion of the minority whose former MP, the Speaker, has deftly distinguished impartiality from neutrality!
To break all this down in a graphic Ghana favourite pastime terms, for grassroots understanding, let us suppose the winner of the football league, ACCRA Hearts of Oak is playing a subsequent match against Fabulous ASANTE Kotoko and the designated Referee is temporarily unavailable. If by consensus a top tier Accra Hearts footballer is assigned the Referee role, and there is a goal-less draw in this red-hot game, can the substitute Referee, one minute to time up, step in hastily, to score a deciding victory goal for the Accra Hearts team because he is ordinarily a Hearts player?
Will there not be fist fights and pandemonium at the Sports stadium with ripples across Accra Hearts vrs Asante Kotoko supporters all over Ghana? Will this 'stolen verdict' not be a simmering recipe for national insecurity if the GFA were to endorse the illicit substitute referee goal that has subverted the referee function to score a coveted goal?
The Ghana Supreme Court "SC", in a rather somersault fireworks ruling, has enabled a Referee Deputy Speaker in NPP partisan attire in a hot e -levy football match between NPP vrs NDC, to score a winning goal for NPP, where the two sides were equally weighted but for the referee's intervention... Is this a fair and equitable ruling? A goal scored by Referees for ANY SIDE is an unacceptable "Awam" goal.
Furthermore, if in a re-match the GFA were to decide that not less than 50% of "All Players" are to participate, could only the 11 players of Accra Hearts show up with their own Referee and play, so that no matter what they score a lone goal? Could Asante Kotoko also do likewise! Would this not be a sure recipe for an awaiting national disaster when the two sides meet in their next BIG DECIDING GAME!
We do humbly bow to the SC but with a crystal-clear legal lens as we bring a different perspective to the grand table of ideas. We inquire whether Ghana is a default one party state by virtue of E-levy budget 'politricks' whereby ONLY one party, regardless of whether it is NPP "Kukrudu Elephants" or Akatamanso NDC umbrellas" can form a Legitimate Quorum to deliver a valid vote in a split Parliament? Is this not "haram" or taboo in a multi- party Constitutional Democracy? Do we have an NPP country and an NDC country or one nation?
We are also saying that the SC did not have to conjecture or infer the Spirit of Article 104(1) because the Spirit is in the 'black and white 'written WORD
The SC so fatally misinterprets Article 104 (1): " Except as otherwise provided in this Constitution, matters in Parliament shall be determined by the votes of the majority of members present and voting, with at least half of "All" the Members of Parliament present", as to include a Presiding Deputy Speaker in a 'silence means consent' logic.
This is rather curious if not dubious when Article 104 (1) has an express proviso which takes us squarely back to Article 102 which sets a precedent that "the person presiding does not count towards the quorum so that whether the quorum is one- third or half is immaterial.
Peace ho! Is voting not integral as the normal business of Parliamentary deliberation as a form of speech? Thus, to "split communal judicial hairs" and draw a fine line distinction effectively, that the exclusion clause of Article 102 quorum provision which excludes "The person" sitting in the speakers' seat does not apply to the Deputy Speaker during voting but only during ordinary proceedings is what is rather inconsistent with the body and spirit of the 1992 constitution.
Furthermore, Had the august Supreme Court been a bit bolder, in its supposed expansive liberal mode, to hold an inherent preliminary instructive view, that the quorum requirements of Articles 102 and 104 were Inclusive of Proportional Representation of "All Members" from both sides of the Political Aisle, the quorum requirements would not have been met.
Certainly, a vote by 100% of the members of one side of the political divide does not constitute a representative 50% vote of "All the Members", when NONE of the 100% of the other side of the aisle are participants, nor would this be the intent or contemplation of the framers of the constitution
In other words, a defective quorum cannot yield valid results and neither the vote that Rejected the E-levy Budget by the NDC nor the Vote which Accepted it by the NPP would be valid, and ought to be Invalid regardless of whether the Speaker or Deputy Speaker presided, which would be mute
Consequently, the duelling house which is like hot pepper soup in angst over Article 104 (3):Where the votes on any motion are equal it shall be taken to be lost" would have been moulded to halt their exclusive clubs & go back and "jaw jaw" and vote responsibly in the interest of Country and not deadlock with fights and flights of fancy in the interest of theatrical Power Plays about 'breaking the 8' OR NOT in 2024
The split parliament has in pursuit of blind power turned quorum requirements into just a numerical farce or technical artifice through a manipulative strategy of walk- outs and retaliatory equalization, so the very essence and integrity of democracy and the "living spirit" of the 1992 constitution" has been violated to actualize an infamous e-levy budget that was levelled flat by one side and redeemed by the other. Neither side is authentic nor has true constitutional validity.
This is due to straight jacket dogmatic politics in E-levy impasse & warzone. There is no conscientious expectation that a majority MP could vote against a BAD E-levy bill or that a minority MP would vote for an e- levy bill if it were GOOD.
Everyone is whipped to toe strict political lines plus sweet "purchases" with inducements?
How can our participatory democracy be whole, when the majority or minority is entirely absent by opportunistic choice so that either party could superficially meet the figures while substantively in violation of the representational democratic dividend?
Whereas walk outs can be legitimate protest tools, they ought not be validly applied when a vote is being taken for that is the hallmark of dysfunction and legislative misgovernance. The serial games of democratic process negation by Parliament itself is abysmal and should not result in a windfall to either side or be implicitly condoned by the SC with its Interpretative Authority
There may well be a legitimate issue of practicality as regards, why bother to elect an MP as Speaker or Deputy Speaker and then attempt to strip partisanship out of them, in an honor code of ethics just because Parliamentarians superficially wear that 'honourable' title by convention?
Perhaps, for the Constitution's spirit of largess to require an MP Deputy speaker who unlike the Speaker has not been required to vacate his seat, to abstain on occasion, when officiating Voting, and aware that his party is losing an 'All die be die E-levy bill OR that a potent 'do or die' electoral matter could be wrestled, is an untenable 'positive change' proposition for a self- styled 'new patriot' or a 'better Ghana' 'national democrat' to obey.
Thus, If Voting abstinence were perceived as a procedural anomaly or even a constitutional defect, any future Constitutional Amendment which Ghana desperately needs against ongoing constitutionally underwritten Executive Excesses which undermine the very democratic practice it seeks to protect, after a comatose expensive review awaiting implementation, ought to consider:
That Speaker and Deputies should not be members of Parliament
That Quorum provisions directly specify proportional representation of all political parties in Parliament for the avoidance of doubt
A significant reduction in the number of MP's and initiating a second chamber with veto powers which could be an antidote to unrelenting Parliamentary Shenanigans would be in order
When all the chips are down, Article 115 which states that: "There shall be freedom of speech, debate and PROCEEDINGS in Parliament and that FREEDOM SHALL NOT BE IMPEACHED OR QUESTIONED IN ANY COURT OR PLACE OUTSIDE PARLIAMENT "may be the ultimate Constitutional word with the ''last laugh"
Consequently, on the issue of all Parliamentary "freedom and justice" procedural affairs, as per Article 115, it will seem the SC has erred to interfere in Parliamentary territory to strike down legislative order C109 which would be void were it unconstitutional but is not, and perfectly in consonance with constitutional directives inclusive Articles 95, 97, 102, 104 ,115, 295 etc as elucidated above in which case the SC does not have Repository Power to Amend the 1992 Constitution which is the effect of its marching orders to Standing Order C 109 (3 ) to wit ' A Deputy Speaker or any other member presiding shall not retain his original vote while Presiding", to 'vacate' Parliament, which is rather unconstitutional so to speak.
Fellow Ghanaians, Please Allow me to "land", but not at Kotoka (was he not a Coup maker?) International Airport "KIA", for an Arrest, while I say that this case most definitely shall not have peaceful Rest.
Email:busiafordemocracy@ yahoo.com