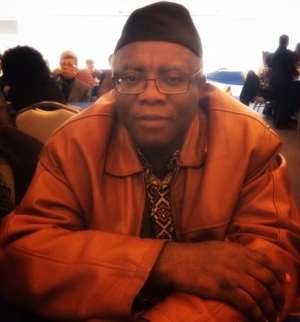 I have read both Dr. Edward Kwame Poku's "Open Letter to Mr. Kofi Adams" (Modernghana.com 9/28/21) and the Buem Constituency's National Democratic Congress' Member of Parliament, Mr. Kofi Adams' rather invidiously and repulsively anti-Akan and/or anti-Asante public statement vis-à-vis the possible Presidential Candidacy of Dr. Kwabena Dufuor, Finance Minister in the government of the late President John Evans Atta "Woyome" Mills, and find both statements to be extremely objectionable. In the case of the former Deputy National Organizer of the National Democratic Congress and sometime Spokesperson for then retired late President Jeremiah "Jerry" John Rawlings, such objectionable heresy squarely has to do with the rather brazen and impudent, as well as imprudent, suggestion that, somehow, the individual presidential ambitions of the twice democratically rejected former President John "European Airbus Payola" Dramani Mahama royally supersedes the inalienable right to Presidential Nominee Choice by supporters and constituents of both the National Democratic Congress' establishment itself and Ghana's Fourth-Republican Constitution and, in effect, the nation at large.
No such presumptuous proposition or suggestion could at once be more criminal and asinine. Dr. Poku, whose letter to Mr. Adams was composed in the form of a rejoinder, is absolutely right to point out that the imperious decision by some 94 Members of Parliament of the National Democratic Congress in the runup to the 2020 Presidential Election was an inescapable recipe for disaster, if also because it flagrantly defied established democratic protocol for the nomination and/or selection of the flagbearer of any legitimately constituted and legally registered political party in the land. But, of course, it is eerily and perfectly in synch with the "revolutionary" and unorthodox practices of the leadership of the Rawlings-founded National Democratic Congress which, in another more functionally democratic political culture or country, would have promptly and summarily precluded or disqualified the National Democratic Congress from legally participating in any nationwide election, as well as parliamentary and municipal and local-level elections as a whole.
It was simply unfair, that is, the strategically communistic decision by the 94 NDC-MPs to preemptively line up behind the Presidential Candidacy of Mr. Mahama, in an autocratic bid to summarily imposing the former Jerry John Rawlings-appointed Deputy Communications Minister, later substantive Communications Minister, on the fiercely democratically minded people of Ghana. The late President Rawlings, who is also the universally acclaimed Founding-Father of the National Democratic Congress, did not have much that was either flattering or complimentary to say about his former mentee and protégé. In the authoritative opinion of Mr. Rawlings, Kwame Gonja, as the Bole-Bamboi native from the Akufo-Addo-created Savannah Region is also popularly known, was a political sore-thumb for the NDC and unquestionably the most thoroughgoing corrupt postcolonial Ghanaian leader in the 64-year history of the country. There can be absolutely no more damning testimony than the preceding one.
You see, the fact of whether Dr. Kwabena Dufuor is much too old or superannuated to be nominated as the 2024 Presidential Candidate of the National Democratic Congress is one that is best determined by party delegates or the entire membership of the National Democratic Congress, and not pathologically opinionated, autocratic and internally divisive party operatives like the Teteman, Jasikan, native from the old Volta Region. This is unarguably a very kosher argument from Dr. Poku, a self-confessed unabashed Asante Ethno-Nationalist, except that the self-described medical doctor would rather unseasonably have his decidedly localized grievances against Mr. Adams unhealthily escalated into one that dangerously verges on the sort of secessionist campaign that is commonly associated with the so-called Western Togoland Terrorists or the Homeland Study Group (HSG).
In sum, morally and ideologically speaking, Dr. Poku does not show himself to be any significantly better than the cutthroat NDC politician whom he so disdainfully presumes to publicly expose to ridicule and literally put in his place, as it were. It also does not make matters and his version of the controversy any better, when a perfectly understandably livid Dr. Poku rather obtusely and scandalously attempts to rope in a totally innocent President Akufo-Addo, whom Dr. Poku intemperately and churlishly accuses of being disdainful and hateful of Ghanaians of Asante ethnicity, merely because an incurably fair-minded Nana Akufo-Addo has decided to field an unprecedentedly fair share of northern-descended Ghanaian citizens and party stalwarts in influential positions of trust in his administration. Needless to say, the reality on the ground speaks tons of tongues far more in favor of President Addo Dankwa Akufo-Addo than it does speak of or about any of the four predecessors of the latter.
It also goes without saying that Dr. Poku would already be on his two knees and be profusely apologizing to all sections of the global Ghanaian community that he has so inexcusably offended, were he endowed with any remarkable modicum of cultural and human decency. Another case of a naked bather madly chasing a clinically lunatic man who just snatched his clothes from the bathroom door.
*Visit my blog at: KwameOkoampaAhoofeJr
By Kwame Okoampa-Ahoofe, Jr., PhD
English Department, SUNY-Nassau
Garden City, New York
January 9, 2022
E-mail: [email protected]