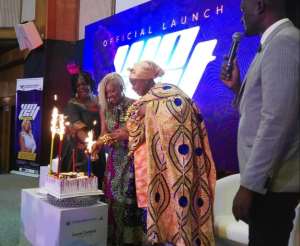 The Women of Power and Transformation Inc (WOPAT) on Wednesday, December 29, 2021, officially launched a new initiative aimed at creating one billion successful women entrepreneurs across the globe.
The launch was held at the Accra International Conference Centre (AICC) in Ghana with an international audience joining in via Zoom from other parts of the world.
Speaking at the launch, Prof. Michelle Walker-Davis who is Chief Executive Officer (CEO) and Founder of WOPAT disclosed that her outfit is determined to work with other partners to create the billion successful women entrepreneurs by 2030.
She said through the initiative, WOPAT will target women that want to be in leadership, women that have an idea of business but do not know how to get it started, or have started but don't have the money to sustain it.
Through various interventions, these women from parts of the world including Ghana will be resourced to make their lives better through entrepreneurship as well as other ventures that could include going into nonprofit organisations.

According to Prof. Michelle Walker-Davis, although funds are not ready at the moment, her outfit is working to ensure already available funds are made accessible to help women.
"We don't have a pool of money that is sitting there but we have a pool of money that we know is accessible. I know that there is $850,000 in free money out there so I'm going work like hell to see that we access that and put them in our application for our women," the WOPAT Founder told the media at the launch.
The successful entrepreneur further indicated that through her latest initiative, she is hoping to have businesses and successful women such as Oprah Winfrey and Meghan Markel come on board to extend a helping hand to uplift their fellow women.
"We are really looking for businesses to support one another to come in with their millions and billions of dollars and then we are going to other successful women for them to give back.
"We have a plan and a strategy that will work. We are not worried about the money. The money will come," Prof. Michelle Walker-Davis noted.
Asked whether setting out to create a billion successful women entrepreneurs is not a dream too big, Prof. Michelle Walker-Davies answered, "It is achievable. It is already being done. We serve a big God and we cannot think small. If we are going to change the value of women it must be done on a massive scale and so we can't look at it through our eyes. We have to look at it through God's word."
Gracing the launch at the AICC, Founder and President, Women in Leadership International (WILI), Rev. Nana Yaa Tina Owusu-Prempeh pledged to work to support the initiative.
She said she has no doubt that through the initiative from WOPAT, lives will be changed through the empowerment of women.
"We are going to unleash a phenomenal financial empowerment to women in this country.
"We are going to make sure that women who are ready to work are empowered with small money to start their businesses. We can change lives and we will do it one person at a time," Rev. Nana Yaa Tina Owusu-Prempeh stressed.
The launch in Accra was attended by traditional leaders including a King and a number of Queens led by the Nungua Okpoi Gonno, Nana Oye Adesey Omanyesane III.

In Ghana, WOPAT also wants to work with The Ministry of Education, Employment, Tourism, as well as Gender, Children, and Social Protection to make its dream come to pass.
After a successful launch in Ghana, WOPAT is set to have another launch in India on January 10, 2022.
Women and women groups looking to benefit from the initiative as well as organisations and businesses interested in supporting WOPAT to create the one billion successful women entrepreneurs can contact WOPAT through [email protected] or visit www.wopat.org.